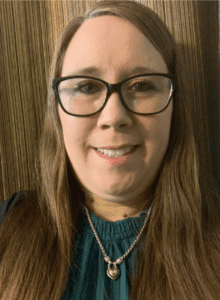 Welcome, Katie!
We are pleased to welcome Katie Hyman to the parish staff as our new bookkeeper. Please note her new email address for all business and financial correspondence: BusinessOffice@SaintJamesParish.org
Katie Hyman lives in Winfield Park, with her husband, James, two children, Ben (10) and Jack (8) along with their family dog, Lucy and hamster, Lil Momma. Her first job in high school was in the rectory of her former parish, St. Mary of the Assumption in Elizabeth. At St. Mary's, she was an active member of her parish. She was a 2nd grade CCD teacher, altar server, sacristan and worked in the food pantry and soup kitchen.
She graduated from Kean University with a BS in Management Science in 2001. She has over 25 years of experience in the accounting field. In her spare time, she enjoys spending time with her family, playing Roblox and other games with her kids and husband, doing crafts with her Cricut machine, and watching Hallmark & GAC Family movies. She is happy to have joined our team here at St. James and appreciates the warm welcome she has received. She is looking forward to meeting all of you!