MENTAL HEALTH MINISTRY
St. Dymphna of Gheel, Patron Saint of those suffering with mental illness, pray for us.
Mission Statement
Members of the Saint James Mental Health Ministry are called to provide vital spiritual accompaniment for people experiencing mental illness, or other life occurrences which disrupt mental and spiritual wellness. We also include those who care for them. Ministry members provide an environment for these individuals to share their experiences and Catholic faith with others and grow closer in their relationship with God.
Our goal is to provide a place to speak out and be heard in a safe, confidential, and non-judgmental environment, where isolation and stigma dissipate as supportive community is created. We understand that mental illness is a disease inside and part of a person who has a heart and soul in need of love and compassion. We work to eliminate the stigma and discrimination that people living with a mental illness encounter in society.
As people of God, we see persons living with a mental illness as unique individuals who are not defined by their illness. We create an opportunity for them to join us in as a spiritual community of faith, we do not provide mental health therapy.
Disclaimer
This information is not provided by medical professionals and is not intended as a substitute for professional medical help or personal counseling. If you need immediate help, contact a medical professional, a suicide prevention hotline, or call 9-8-8.
Zoom Presentation: "Mental Health Resources in Union County"
Tuesday, February 28th, 7:30pm
Join us to learn about mental health resources available in Union County, featuring guest speaker Joyce Benz, LCSW, of the Mental Health Association of NJ in a Zoom presentation. This is a unique opportunity to get up-to-date information on established resources and new programs, to ask questions and share information with others looking to improve the quality of life for a loved one with a mental health diagnosis.
Register in advance for this Zoom meeting:
https://us02web.zoom.us/meeting/register/tZ0ocuutrj8qE9Sa-8qVlJLPMJw9ABJjMI8I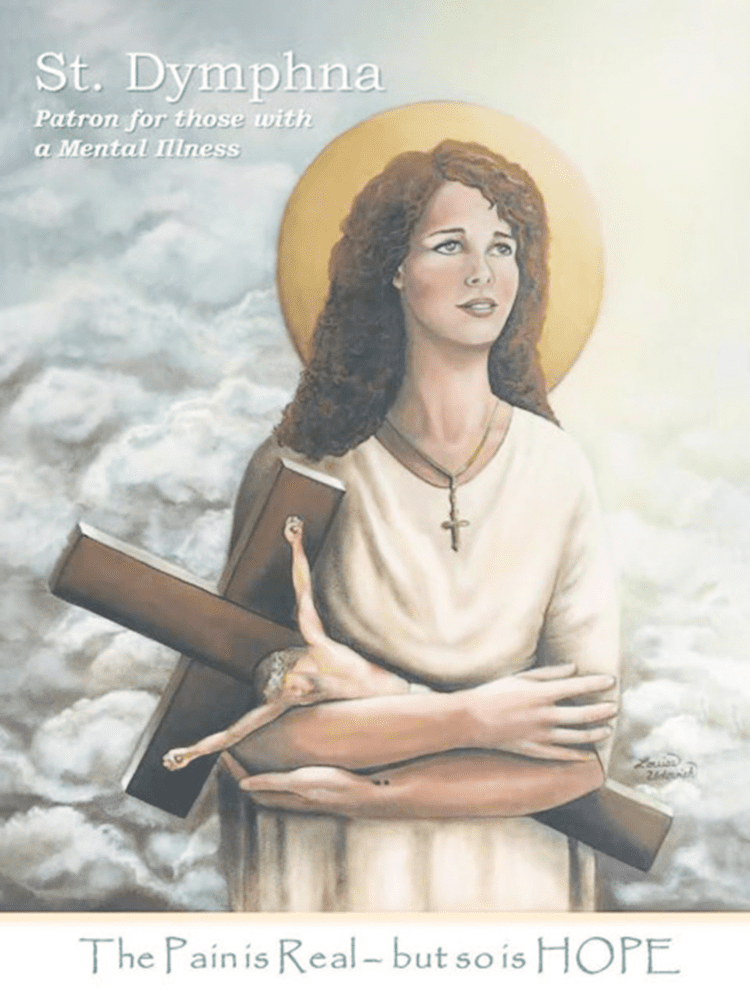 SAINT DYMPHNA, PATRON FOR THOSE WITH MENTAL ILLNESS

Lord we Pray for those who have a Mental Illness Help us understand that the way we talk about people with a mental illness affects the people themselves and how we treat the illness. So often people who have a mental illness are known as their illness; people say that "she is bipolar" or "he is schizophrenic"; when we talk about mental illness, we should not use that phrase. People who have cancer are not cancer; those with heart disease are not heart disease. Let us always remember that people with a mental illness are not the illness – they are beautiful creations of God. There is so much fear, ignorance, and hurtful attitudes that the people who suffer from mental illness needlessly suffer further. Help us to support and be compassionate to those with a mental illness, every bit as much as we support those who suffer from any other illness. Grant courage to those for whom we pray and fill them with hope. If it is according to Your Divine Will, grant them the recovery and cure they desire. Help them to remember You love them; they are never alone. Saint Dymphna, Patron of those with a Mental Illness, pray for us.
For immediate help call 988 for the Suicide and Crises Lifeline or scroll below for other contacts.
NJMentalHealthCares: (1-866-202-HELP(4357) is New Jersey's mental health information and referral service.
The NJ Connect for Recovery Call Line: 1-855-652-3737 was established to support two distinct groups across the state of New Jersey: those concerned with their own opiate use; and, those who are experiencing distress related to the opiate use of a friend or family member.
1-855-654-6735 NJ Hopeline: New Jersey's 24/7 Peer Support & Suicide Prevention Hotline.
Crisis Text Line: provides free, 24/7 support via text message. We are here for everything: anxiety, depression, suicide, school. Text HOME to 741741.
Northern New Jersey Alcoholics Anonymous: 908-687-8566
Al-Anon Montclair, NJ: (973) 744-8686
NAMI Union County Family Support Group Meetings
naminj.org/support/affiliates/union/ Nami.union.nj@nami.org
Gloria Badgley, President Family Support Group
Are you feeling stressed and alone in trying to cope with the effects of a loved one's mental illness? NAMI Union County's Family Support Group is for family members and caregivers of persons with mental illness. The group is led by NAMI-trained facilitators and is a peer support group that allows participants to gain insight from others facing the same challenges. Zoom sessions are held on the 3rd Tuesday of every month from 7pm – 8pm. To register, email Denise at: namiunioncounty@yahoo.com with your name, town and phone number.
NAMI Union County Family Support Education
Family To Family Education:
8-week education course for families of adults living with mental illness
To Learn More About the Course: https://www.naminj.org/programs/f2f/
Upcoming Course:
Thursdays, September 22 – November 10, 2022 (in-person)
7:00 p.m. – 9:30 p.m. ET
For more information and to register, please contact Pat Roman at 732-397-8123 or email patroman2@aol.com before September 15. Please include in the subject line: F2F Course.
NAMI Connection Recovery Support Group
NAMI Connection Recovery Support Group is a 60-to-90-minute support group for adults (18+) with a mental health condition. Participants gain the support of peers who understand their experience and gain insight into others' challenges and successes.
Wednesdays at 12:00 pm and Wednesdays at 7:00 pm. Register at: https://docs.google.com/forms/d/e/1FAIpQLScCAMXBBlD4mNSQPS0V4bCc16pCtma2Zl40enFvqFAGR1CzQg/closedform
NAMI Spouse/Partner Support Group
Gain support and share with others who can relate to your personal experiences. The group will follow the NAMI Signature Family Support Group Model and will be run by two trained facilitators. Participants must pre-register and be 18 years or older. Attendance will be limited to 15 people. The 2nd Thursdays of the month. Register at:
https://docs.google.com/forms/d/e/1FAIpQLSfBEv7aTpC9FUNKgYwOWmFP5FCE-TmZLlDCgGAHDTts0u8e7g/viewform
Veterans Mental Health Services Mental Health Home (va.gov)
Integrated Case Management Services (ICMS)
Mount Carmel Guild Behavioral Healthcare
ICMS functions in the belief that adults with serious and persistent mental illness can better manage their illness, increase their functioning, and improve their sense of mastery and well-being with appropriate information and support. ICMS provides case management services designed to engage and support consumers while striving to help them integrate into the community. Case Managers work with consumers to facilitate access to and utilization of needed resources and supports. ICMS Services include outreach, assessment, linkage to community resources, crisis intervention, substance abuse education and intervention, psycho-education, and advocacy.
Services are available on a 24 hour, 7 days per week basis through an on-call system. We can be reached at the phone numbers provided below.
Location: Catholic Charities of the Archdiocese of Newark / Mount Carmel Guild Behavioral Healthcare System,
47-71 Miller Street 3rd Fl. Suite 301
Newark, NJ 07114
Daytime: (973) 522-2100
After Hours: (973) 722-7889
Outpatient Mental Health Programs
Mount Carmel Guild Behavioral Healthcare
Provide a wide range of professional mental health assessment and treatment services to children, adolescents, and adults, as well as consultation/education to community agencies. Using a professional team approach, emphasis is placed on individualized assessment, goal-oriented treatment planning, periodic case review and continuity of care for clients.
Location: Catholic Charities of the Archdiocese of Newark / Mount Carmel Guild Behavioral Healthcare System,
505 South Ave, East Cranford, NJ 07016
(908) 497- 3923
(908) 479-3924
24 hours a day, 7 days a week
The Association of Catholic Mental Health Ministers (CMHM) partners with the Pope's Worldwide Prayer Network and Click to Pray to create prayers for a Monthly Day of Prayer for Mental Health on the 2nd Monday of every month. The prayers and a blog can be found on the Click to Pray website (clicktopray.org) and their app (found in your preferred app store) and will be shared on social media.
Caregivers Program Resources
Nourish For Caregivers Online Monthly Group
A Faith-Filled "Mini-Retreat" for Caregivers held Virtually via Zoom on the 3Rd Monday of each month at 8 PM EST. https://nourishforcaregivers.com/about-us/
In a welcoming and encouraging environment, Nourish for Caregivers mission is to supports and empowers caregivers through the gift of faith. Each month the group explores the most common challenges every caregiver faces. Issues are tackled through a Christ-centered curriculum to address the spiritual needs of caregivers, along with their practical and emotional needs. Each session includes prayer, practical information, topic exploration, group activities, and open sharing.
Another program you can join is called House Calls and it is held every Tuesday morning at11:00 AM EST and a new time on the second and forth Thursday of every month at 8:00 PM EST.
It is a place to bring questions, share your ideas, and a space to receive spiritual nourishment. There is an opportunity to also join their Facebook page or signup for their newsletter. On YouTube look for their Caregiving Wisdom Series Videos
They provide on their site information on the following topics; When You Feel Stressed, National Resources, When Safety Is A Concern, When You Need To Feed Your Soul, When Relationships Change, When The Medicine You Need Is Scripture, and When Anticipating Or Facing Losses.
MENTAL HEALTH TOPICS
For the ministry to be successful, it is important to first understand our parish's mental health needs so we can tailor our program to provide the best possible support.
Mental Wellness For Teens
You might not be able to change what is stressing you out, but you can control how you react and respond to stress.
It is Time to Talk About Your Mental Health When…
Listen.  Let them finish their sentences and complete their thoughts without interrupting.  After they have finished you can respond.
Find a person you trust. Someone who will listen to you, and help you plan your next steps.
Celtic Prayer For New Beginnings
This night and every night
grant to me light.
This night and every night
grant to me peace.
This night and every night
grant to me rest.
This night and every night
grant to me grace.
This night and every night
grant to me joy.
The Prayer
I pray you'll be our eyes
And watch us where we go
And help us to be wise
In times when we don't know

Let this be our prayer
As we go our way
Lead us to a place
Guide us with your grace
To a place where we'll be safe

I pray we'll find your light
And hold it in our hearts
When stars go out each night
Remind us where you are

Let this be our prayer
When shadows fill our day

Lead us to a place
Guide us with your grace
Give us faith so we'll be safe

We ask that life be kind
And watch us from above
We hope each soul will find
Another soul to love

Let this be our prayer
Just like every child
Needs to find a place
Guide us with your grace
Give us faith so we'll be safe

Need to find a place
Guide us with your grace
Give us faith so we'll be safe
Written by David Foster, Carole Bayer Sager, Alberto Testa & Tony Renis in 1998 for the film Quest for Camelot.
To hear the song sung by Celtic Women go to YouTube
Disclaimer: This information is not provided by medical professionals and is not intended as a substitute for professional medical help or personal counseling. If you need immediate help, contact a medical professional, a suicide prevention hotline, or call 9-8-8.
If you have any thoughts on subject matters you would like to see featured in the future, or if you would like to write an article to be included as a handout or would like to be part of the ministry, please contact Nancy Mahoney-Rajs