MENTAL HEALTH MINISTRY
St. Dymphna of Gheel, Patron Saint of those suffering with mental illness, pray for us.
Saint James Mental Health Ministry Mission Statement
Members of the Saint James Mental Health Ministry are called to provide vital spiritual accompaniment for people experiencing mental illness, or other life occurrences which disrupt mental and spiritual wellness. We also include those who care for them. Ministry members provide an environment for these individuals to share their experiences and Catholic faith with others and grow closer in their relationship with God.
Our goal is to provide a place to speak out and be heard in a safe, confidential, and non-judgmental environment, where isolation and stigma dissipate as supportive community is created. We understand that mental illness is a disease inside and part of a person who has a heart and soul in need of love and compassion. We work to eliminate the stigma and discrimination that people living with a mental illness encounter in society.
As people of God, we see persons living with a mental illness as unique individuals who are not defined by their illness. We create an opportunity for them to join us in as a spiritual community of faith, we do not provide mental health therapy.
Disclaimer
This information is not provided by medical professionals and is not intended as a substitute for professional medical help or personal counseling. If you need immediate help, contact a medical professional, a suicide prevention hotline, or call 9-8-8.
"Every human being has a great, yet often unknown gift—to care, to be compassionate, to become present to the other, to listen, to hear, and to receive. If that gift would be set free and made available, miracles could take place."
~ Henri Nouwen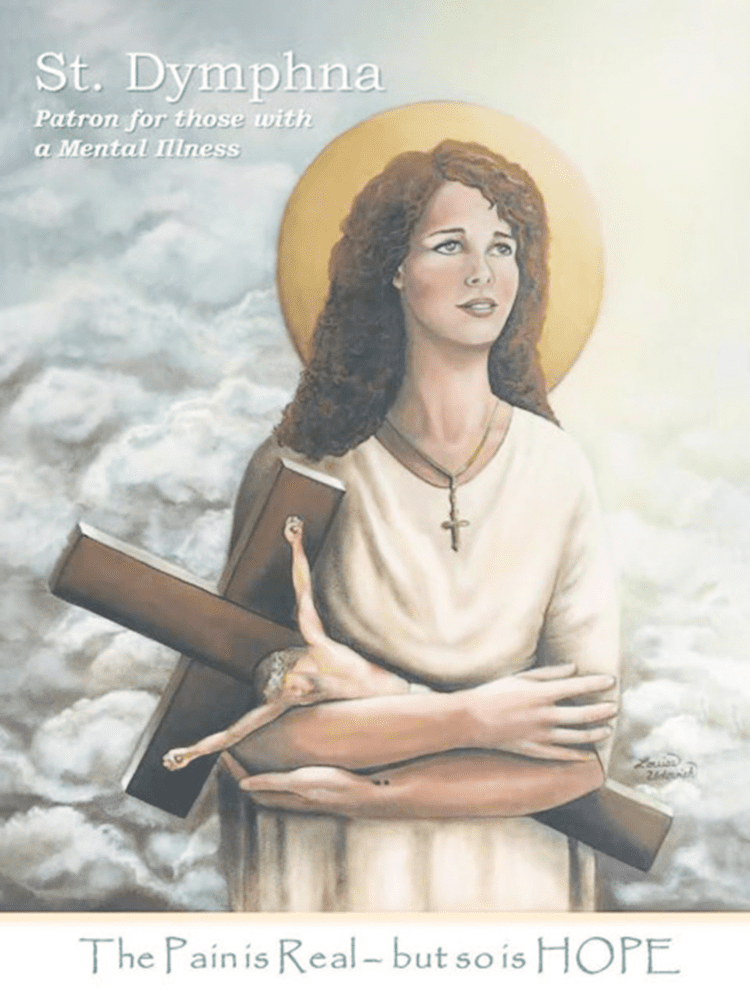 SAINT DYMPHNA, PATRON FOR THOSE WITH MENTAL ILLNESS Lord we Pray for those who have a Mental Illness Help us understand that the way we talk about people with a mental illness affects the people themselves and how we treat the illness. So often people who have a mental illness are known as their illness; people say that "she is bipolar" or "he is schizophrenic"; when we talk about mental illness, we should not use that phrase. People who have cancer are not cancer; those with heart disease are not heart disease. Let us always remember that people with a mental illness are not the illness – they are beautiful creations of God. There is so much fear, ignorance, and hurtful attitudes that the people who suffer from mental illness needlessly suffer further. Help us to support and be compassionate to those with a mental illness, every bit as much as we support those who suffer from any other illness. Grant courage to those for whom we pray and fill them with hope. If it is according to Your Divine Will, grant them the recovery and cure they desire. Help them to remember You love them; they are never alone. Saint Dymphna, Patron of those with a Mental Illness, pray for us.
What You Need to Know About Mental Illness Did You Know…
According to the Surgeon General, one in every five Americans experiences a mental disorder in any given year and half of all Americans have such disorders at some time in their lives.
These illnesses of the brain affect all of us, regardless of age, gender, economic status, or ethnicity.
About one in 17 lives with a serious mental illness such as schizophrenia, major depression, or bipolar disorder
One in five U.S. service members who served in Iraq or Afghanistan suffers from major depression or combat stress (PTSD) 
One in ten children and youth has a serious mental illness condition
About half of students with a serious mental illness in special education drop out of high school – the highest dropout rate of any disability group
Fewer than one-third of adults and one-half of children who live with mental health needs receive any level of treatment in any one year
Only one in three adults who lives with a serious mental illness is employed, even though most want to work
26% of the homeless population lives with a severe mental illness
One out of every five community hospital stays involve a primary or secondary diagnosis of mental illness
About 20-25% of jail and prison inmates and youth involved with juvenile justice live with a serious mental illness
We lose one life to suicide every 15.8 minutes. The suicide rate for older adults is 50% higher than the national rate as a whole
"People with mental problems are our neighbors.  They are members of our congregations, members of our families; they are everywhere in this country.  If we ignore their cries for help, we will be continuing to participate in the anguish from which those cries for help come.  A problem of this magnitude will not go away.  Because it will not go away, and because of our spiritual commitments, we are compelled to take action.   – Rosalyn Carter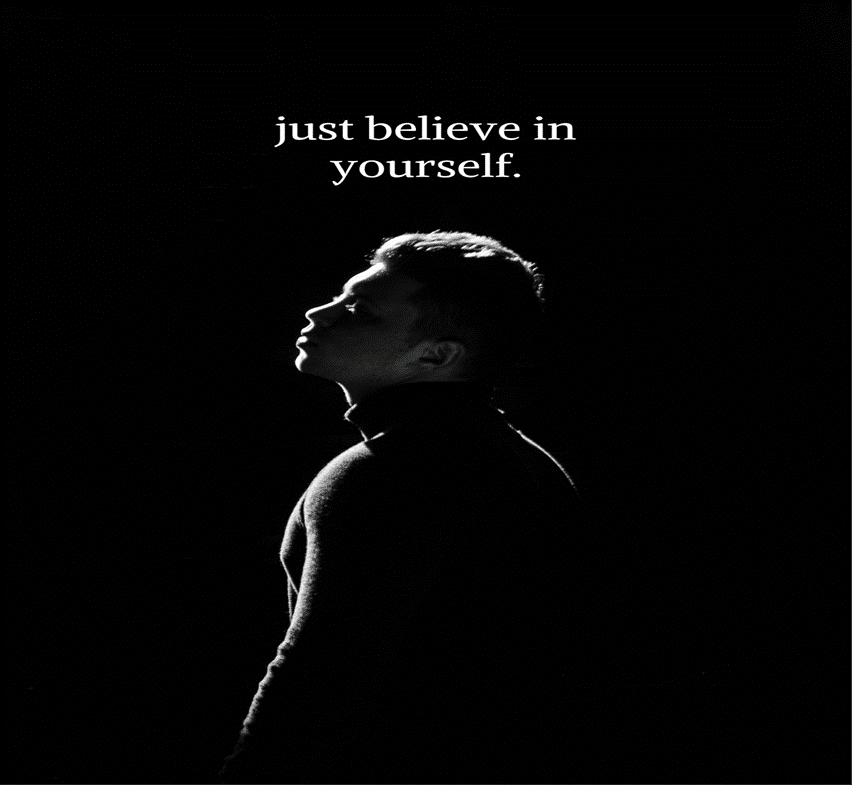 International Survivors of Suicide – November 21 Gracious and loving God, for all the families who have lost a loved one to suicide, bring them comfort in trusting that your mercy and grace accept their loved one into the eternal bliss of heaven. We pray to the Lord.
Help Lines
For immediate help call 988 for Suicide and Crises Lifeline. Or scroll below for other contacts.
NJMentalHealthCares: (1-866-202-HELP(4357) is New Jersey's mental health information and referral service.
The NJ Connect for Recovery Call Line: 1-855-652-3737 established to support two distinct groups across the state of New Jersey: those concerned with their own opiate use; and, those who are experiencing distress related to the opiate use of a friend or family member.
1-855-654-6735 NJ Hopeline: New Jersey's 24/7 Peer Support & Suicide Prevention Hotline.
Crisis Text Line: provides free, 24/7 support via text message. We are here for everything: anxiety, depression, suicide, school. Text HOME to 741741.
Northern New Jersey Alcoholics Anonymous: 908-687-8566
Al-Anon Montclair, NJ: (973) 744-8686
Other Sources for Help and Assistance
NAMI Union County Family Support Group Meetings
naminj.org/support/affiliates/union/ Nami.union.nj@nami.org
Gloria Badgley, President Family Support Group – Tuesday September 20,2022 Are you feeling stressed and alone in trying to cope with the effects of a loved one's mental illness? NAMI Union County's Family Support Group is for family members and caregivers of persons with mental illness. The group is led by NAMI-trained facilitators and is a peer support group that allows participants to gain insight from others facing the same challenges. Zoom sessions are held on the 3rd Tuesday of every month from 7pm – 8pm. To register, email Denise at: namiunioncounty@yahoo.com with your name, town and phone number.
NAMI Union County Family Support Education
Family To Family Education:
8-week education course for families of adults living with mental illness
To Learn More About the Course: https://www.naminj.org/programs/f2f/
Upcoming Course:
Thursdays, September 22 – November 10, 2022 (in-person)
7:00 p.m. – 9:30 p.m. ET
For more information and to register, please contact Pat Roman at 732-397-8123 or email patroman2@aol.com before September 15. Please include in the subject line: F2F Course.
NAMI Connection Recovery Support Group
NAMI Connection Recovery Support Group is a 60-to-90-minute support group for adults (18+) with a mental health condition. Participants gain the support of peers who understand their experience and gain insight into others' challenges and successes.
Wednesdays at 12:00 pm and Wednesdays at 7:00 pm. Register at: https://docs.google.com/forms/d/e/1FAIpQLScCAMXBBlD4mNSQPS0V4bCc16pCtma2Zl40enFvqFAGR1CzQg/closedform
NAMI Spouse/Partner Support Group
Gain support and share with others who can relate to your personal experiences. The group will follow the NAMI Signature Family Support Group Model and will be run by two trained facilitators. Participants must pre-register and be 18 years or older. Attendance will be limited to 15 people. The 2nd Thursdays of the month. Register at:
https://docs.google.com/forms/d/e/1FAIpQLSfBEv7aTpC9FUNKgYwOWmFP5FCE-TmZLlDCgGAHDTts0u8e7g/viewform
Veterans Mental Health Services  Mental Health Home (va.gov)
Integrated Case Management Services (ICMS)
Mount Carmel Guild Behavioral Healthcare
ICMS functions in the belief that adults with serious and persistent mental illness can better manage their illness, increase their functioning, and improve their sense of mastery and well-being with appropriate information and support. ICMS provides case management services designed to engage and support consumers while striving to help them integrate into the community. Case Managers work with consumers to facilitate access to and utilization of needed resources and supports. ICMS Services include outreach, assessment, linkage to community resources, crisis intervention, substance abuse education and intervention, psycho-education, and advocacy.
Services are available on a 24 hour, 7 days per week basis through an on-call system. We can be reached at the phone numbers provided below.
Location: Catholic Charities of the Archdiocese of Newark / Mount Carmel Guild Behavioral Healthcare System, 47-71 Miller Street 3rd Fl. Suite 301
Newark, NJ 07114 Daytime: (973) 522-2100 After Hours: (973) 722-7889
Outpatient Mental Health Programs
Mount Carmel Guild Behavioral Healthcare
Provide a wide range of professional mental health assessment and treatment services to children, adolescents, and adults, as well as consultation/education to community agencies. Using a professional team approach, emphasis is placed on individualized assessment, goal-oriented treatment planning, periodic case review and continuity of care for clients.
Location: Catholic Charities of the Archdiocese of Newark / Mount Carmel Guild Behavioral Healthcare System, 505 South Ave, East Cranford, NJ 07016 (908) 497- 3923 (908) 479-3924 24 hours a day, 7 days a week
The Association of Catholic Mental Health Ministers (CMHM) partners with the Pope's Worldwide Prayer Network and Click to Pray to create prayers for a Monthly Day of Prayer for Mental Health on the 2nd Monday of every month. The prayers and a blog can be found on the Click to Pray website (clicktopray.org) and their app (found in your preferred app store) and will be shared on social media.
"Come to me, all you who labor and are burdened, and I will give you rest."      
~Matthew 11:28
Caregivers Program Resources
Nourish For Caregivers Online Monthly Group
A Faith-Filled "Mini-Retreat" for Caregivers held Virtually via Zoom on the 3Rd Monday of each month at 8 PM EST. https://nourishforcaregivers.com/about-us/
In a welcoming and encouraging environment, Nourish for Caregivers mission is to supports and empowers caregivers through the gift of faith. Each month the group explores the most common challenges every caregiver faces. Issues are tackled through a Christ-centered curriculum to address the spiritual needs of caregivers, along with their practical and emotional needs. Each session includes prayer, practical information, topic exploration, group activities, and open sharing.
Another program you can join is called House Calls and it is held every Tuesday morning at11 AM EST.  It is a place to bring questions, share your ideas, and a space to receive spiritual nourishment.  There is an opportunity to also join their Facebook page or signup for their newsletter.  On YouTube look for their Caregiving Wisdom Series Videos
They provide on their site information on the following topics; When You Feel Stressed, National Resources, When Safety Is A Concern, When You Need To Feed Your Soul, When Relationships Change, When The Medicine You Need Is Scripture, and When Anticipating Or Facing Losses.
"Every human being has a great, yet often unknown gift—to care, to be compassionate, to become present to the other, to listen, to hear, and to receive. If that gift would be set free and made available, miracles could take place."
~ Henri Nouwen

What is the Difference Between Mental Health & Mental Illness?
By Dr Tim Sharp January 24, 2022 https://www.nib.com
Let us explore the differences and what you can do to improve your mental wellbeing.
Most people struggle with their mental health from time to time, whether it is brought on by stress from work, financial issues, or relationship strain. And, while there is nothing wrong with taking a mental health day away from the office when things get too much, how do you know when your stress has become something more serious? And what is the difference between mental health and mental illness?
What is mental health? Mental health refers to an individual's emotional, psychological, and social wellbeing; it is all about how a person thinks, feels, and acts. Your mental health can impact how you deal with stress, how easily you relate to others and the choices you make on a day-to-day basis.
Sometimes our mental health comes under strain from life events – a relationship break-up, difficult work situation, family problems or the challenges that come with a global pandemic.
All of us have varying thresholds for how much we can cope with before our mental health suffers. "The term 'mental health' is often misused," says positive psychologist and The Happiness Institute Founder Dr Tim Sharp. "It's often used when people really mean mental ill-health or mental illness, but mental health really refers to a state of psychological wellbeing; an absence of or minimal levels of distress, and the presence of positive emotions like happiness and satisfaction with life."
Whatever you do, do not expect to be happy all the time – just about everyone will face mental health challenges at some stage of their life. Do not expect to be happy all the time – just about everyone will face mental health challenges at some stage. "Expecting to be happy all the time would be completely unrealistic, bordering on the absurd, and even potentially unhealthy," Tim says. Feelings like fear and anxiety, frustration, and anger are perfectly normal and even appropriate at times, he says.
"The goal, then, should be to enjoy as many positive emotions (like happiness) as possible but also, to accept and to appropriately manage the distressing emotions so they don't overwhelm us or impact too much on our ability to function in the world."
What does good mental health look like? Good mental health is more than not having any symptoms of mental illness or discord; it is a state of wellbeing that allows us to take pleasure and satisfaction from life and bounce back when things do not go to plan. Mentally resilient people are still affected by setbacks, but they can better deal with stress and disappointment and recover more quickly.
"Good mental health will look different in different people but, as a rule, good mental health includes high levels of positive emotions (like happiness and joy, satisfaction and confidence) and low levels of negative emotions (like depression and anxiety)," Tim says. "Good mental health would almost always also include the presence of good physical health, positive relationships and meaningful work."
How to look after your mental health. Taking care of your psychological wellbeing is just as important as taking care of your physical wellbeing. Developing self-care for your mind can help you prevent mental health issues and give your strategies to cope with milder problems if they arise.
When we are feeling stressed or down, it helps to accept that it is OK not to be OK all the time, Tim says. "This is important, because if we deny or try to fight this then the stress tends to fight back stronger!" he says. "Just as it is OK not to be OK all the time, it is also OK to try to be Ok; to try to feel better."
We can do this by taking small steps, whatever we feel is manageable, to set and work towards meaningful goals, practice self-care, eat well and get some exercise in, Tim says. "We can also practice gratitude for whatever good we have in our lives, and reach out and connect with others," he adds. "Just as it is OK not to be OK it is also OK to reach out and ask for help; in fact, at times it is essential."
Some of the ways we can improve our physical health and wellness have a big impact on our mental health too. Here are five ways to look after your mental health:
Avoid relying on alcohol or drugs While alcohol can temporarily give you a lift and help you relax, the downside is that it can interfere with sleep, make you more anxious and increase feelings of stress in the long term. Illicit drugs can tip a vulnerable person into mental illness and, for anyone with a mental illness, using drugs can make symptoms worse.
Practice mindfulness Much of our anxiety is based on ruminating about the past or worrying about the future. If we can bring our awareness to the present and observe our thoughts, rather than judge them, we can reduce stress and protect against anxiety. Mindfulness can be practiced in small moments during the day or during meditation.
Keep a gratitude journal Research has found that people who practice gratitude by consciously counting their blessings for the good things in their life feel happier. Writing down two things you are grateful for each morning can get your day off to a positive start.
Manage your stress Stress cannot be eliminated from our lives, but we can work to minimize it. Exercise, mindfulness, meditation, and prayer help. It is also recommended to s postponing major life changes when you are already under stress, resolving personal conflicts, and doing more of the things you enjoy – whether it be gardening, reading, or spending time with family and friends.
Learn cognitive diffusion This is a technique that teaches us to take a step back and detach ourselves from our thoughts when they are repetitive, negative, or unhelpful. Negative thoughts are normal, but we do not have to believe them or engage with them.
What is mental illness? We all face ups and downs, but mental illnesses are complex mental health challenges that are not just part of everyday life. According to AMI 2022 data, nearly 50 million Americans, which is 4.91% are experiencing a severe mental illness. "There is a difference between the 'normal' experience of negative emotions and what might sometimes be referred to as 'abnormal' or clinical levels of distress,"
Tim says. "Depression is a normal human emotion, for example, but Major Depressive Disorder is obviously not ideal." The difference between mental ill-health and mental illness often lies in the extent to which these emotions impact on our lives, Tim explains. "If depression or anxiety or any other form of distress is having a significant impact on one's ability to function, to work or study or socialize, especially over a prolonged period of at least one or more than two weeks, then that's when we might consider a more formal diagnosis of mental illness and when seeking professional help would be very much recommended."
It is important to remember that a mental illness rarely manifests the same way in one person as it does in another. Depression can look and feel very different to different people, for example.
"In fact, depression is almost certainly not just one disorder. Different types of mental ill-health, like Major Depressive Disorder or one of the anxiety disorders, are what we call syndromes, collections of signs and symptoms, and the exact combination of those signs and symptoms can very much differ across individuals."
What are some of the types of mental illness? Mood disorders such as depression and anxiety are classified as mental illnesses, and standard criteria are used to diagnose them. Other examples include schizophrenia, eating disorders, post-traumatic stress disorder and bipolar affective disorder.
"What might be considered 'normal' distress can develop into a more formal mental illness if left unchecked and if left unaddressed, which is why it's so important to be aware of early warning signs and to seek help sooner rather than later," Tim says.
We should all be talking more about mental health and mental illness, because for too long now a stigma has existed around these topics. Talking more openly about mental ill-health can smash the stigma, making it easier for people to get the help they need. "With stigma comes a reluctance to seek help, which means people suffer in silence and unnecessarily," he says. "Talking more openly about mental ill-health can address and smash the stigma, making it easier for people to get the help they need and thus, to get on with and to live more fulfilling lives."
Where to get help for mental health If you are struggling with your mental wellbeing, reach out to the people around you and seek professional mental health support from your GP, a counsellor, psychologist, or psychiatrist.
Information for Catholics Living with Depression
What Is Depression?
Depression is more than just the occasional sadness which many people experience from time to time. It is an illness characterized by persistent sadness, fatigue, and hopelessness that restricts a person's ability to carry out their normal daily activities. It can contribute to relationship problems, physical pain, and illness. The cause of depression may be biological, situational, or a combination of both.
In any given year about 7% of adults, 2.5% of children, 8.5% of adolescents, and 15% of senior citizens will suffer from an episode of depression.
If you or someone you know is suffering from depression, you should know that depression is a serious condition which is very treatable and often curable. Research indicates that a combination of therapy and medication often produces the best results. It is almost impossible to think, wish, hope, or pray one's way out of depression.

Two of the most common forms of depression are Major Depressive Disorder and Persistent Depressive Disorder. Major Depressive Disorder is characterized by a combination of symptoms that interfere with a person's ability to work, sleep, study, eat, and enjoy activities that they once enjoyed. Major depression is disabling and prevents a person from functioning normally. Persistent Depressive Disorder is characterized by long–term (two years or longer) but less severe symptoms that may not disable a person but can prevent one from functioning normally or feeling well. People with Persistent Depressive Disorder may also experience one or more episodes of Major Depression during their lifetimes.
Other forms of depression include Seasonal Affective Disorder (SAD), which is characterized by the onset of a depressive illness during the winter months; bipolar disorder, in which depression alternates with periods of emotional highs; Post-Partum Depression, characterized by a major depressive episode one month after delivery; and Senior Depression, which is connected to the challenges of aging and occurs in about 15 percent of people over age 65.
What Can I Do?
Depression may or may not be accompanied by thoughts of suicide or the intention to commit suicide. The national suicide prevention hotline is 1-800-273-8255.
If you have attempted or are preparing to commit suicide, call 9-1-1, check yourself into an emergency room, or call a suicide prevention hotline.
If you have thoughts about harming yourself or committing suicide, call a mental health professional immediately, or contact a suicide prevention hotline.

If you are suffering from acute, persistent, or occasional but recurring depression which prevents you from functioning normally in everyday life, you should contact your family physician, a mental health professional, or a local mental health organization. Organizations such as the National Alliance on Mental Illness (NAMI) provide referrals and a variety of educational programs and support groups.
Faith-based counseling services such as Catholic Charities can also provide counseling or referrals. Remember that a combination of therapy and medication have generally proven to be more effective in treating depression than either one on their own. Be cautious of accepting medication from any provider without consultation with a mental health professional; always ask about possible side-effects and other options if a provider suggests medication.

Depression and Faith
In an address to a Vatican conference on depression, Pope John Paul II noted that "depression is always a spiritual trial." He said people suffering from depression need help "to rediscover their self-esteem, confidence in their own abilities, interest in the future, [and] the desire to live." For them, "as for everyone else," the Pope noted, "contemplating Christ means letting oneself be 'looked at' by him–an experience that opens one to hope and convinces one to choose life."
In their 2018 pastoral letter "Hope and Healing," the Catholic bishops of California acknowledged that mental illness "is a source of deep suffering for many." As Christians, the bishops wrote, "we believe that Christ's suffering and death on the cross gives our anguish meaning" and "our Catholic faith does not promise a life free from suffering or affliction." For that reason, "We should not expect that prayer, Scripture reading, or the sacraments, will cure mental disorders or alleviate all emotional suffering. While the Christian faith and the sacramental life of the Church offer us the hope and the spiritual strength to endure whatever suffering God permits, we recognize that not all afflictions can be avoided and not all illnesses can be cured."
The bishops concluded: "We have the duty as Christians to reach out to the sick, to accompany them and to do all we can to heal or diminish their suffering. As the body of Christ, we are called to help alleviate the burdens that stem from mental afflictions."
From https://waterloocatholics.org/catholics-with-depression
Do you think you may be depressed or have anxiety go to this site and take a short mental health test: https://screening.mhanational.org/screening-tools/

Signs of Depression
Depression is a very real problem that a surprising number of people must deal with on a near-constant basis.
The World Health Organization estimates [1] that more than 264 million people suffer from depression around the world—that's a lot of people struggling with difficult emotional responses to daily challenges and mood fluctuations over which they have little to no control.
It is very possible that some of your family or friends are also suffering from depression and could really use your help to lift them out of it. Below, we are going to look at ways to spot depression in those close to you, and what you can do about it.
How to Recognize the Signs of Depression
Depression is a chronic disease, one that typically lasts for more than just a few days and tends to recur, affecting sufferers on a regular basis. This means that people who are looking for symptoms of depression will typically be able to spot them.
Some of the signs that your friend or relative are stressed include [2] [3]:
Constant fatigue and tiredness
Poor sleep quality or regular sleep disturbances
Low-grade aches and pains
Depressed or low mood (which, surprisingly, is not always a common symptom)
Appetite gain or loss
Weight gain or loss, due to changing food intake
Increased drug and/or alcohol use to cope with feelings
Forced happiness, also known as "smiling depression"
Concentration difficulties
Lack of interest in hobbies or activities previously enjoyed, as well as disinterest in pursuing future projects
Digestive problems
Decreased libido and lower sex drive
Headaches
Anger or irritability
Reckless or escapist behavior
Feelings of guilt or self-loathing
Studies have shown that people who suffer from depression, particularly the elderly, are more likely to also suffer from chronic health conditions like cancer, heart disease, arthritis, Type 2 Diabetes, and autoimmune conditions.
Risk Factors for Depression
There are a few known risk factors that raise a person's probability of suffering from depression. These include [4]:
Health problems. Chronic medical conditions and cognitive impairment are both known to lead to depression.
Aging-related diseases. Arteriosclerosis and immune and endocrine changes can affect the parts of the brain that control mood, leading to depression.
Genetics. Depression, like many other mental health disorders, can run in the family.
Hormonal changes. Pregnancy, menopause, and other times of significant hormonal changes can lead to depression.
Stress or trauma. Both stress and trauma can trigger depressive episodes, or bring on depression in people who have never suffered from it before.
Psychosocial adversity. Problems like disability, relocation, isolation, impoverishment, bereavement, and caregiving can all be a factor in depression.
What You Can Do to Help
If you are seeing the signs that your friend or family member could be depressed, know that you have the power to help. Friendship has been proven to combat depression [5] and seriously improve mental health. Stepping up to make a difference in the life of someone you care about is something you can do.
Here is how you can help:
Listen. When they talk, listen to what they are saying. Make sure they know that you care about them regardless of what they are struggling with, that you accept them the way they are. Do not force them to talk about their emotions if they do not want to—just be there, listen, and be present for them in whatever way they need.
Be available. Let your friend or relative know that you are just a call, email, or text message away, any time they need you. Sometimes, just being available is the best thing you can do. It makes sure they know you care and are willing to help them on their terms.
Do not focus on the depression. This is particularly important if they have been diagnosed with or battling depression for years. They understand that depression is a struggle they must live with, but sometimes they just want to feel normal. Do things that help them feel "normal"—it can help to lift them out of their depression more than you realize.
Take their feelings seriously. NEVER say, "Just cheer up" or "Forget about it", as this implies that depression is something they have greater control over. This emotional problem is often out of their control—their brain chemistry is imbalanced, leading to depressive feelings—so failing to take their feelings seriously can only make the challenge harder for them.
Help them find support. Encourage them (GENTLY) to seek professional help, and help them find the resources, counseling, or therapy that suits them best—but only if they want your assistance. This is an important step in the process of managing depression, and it is one that they may not be able to take on their own. A helping hand can make a huge difference, if it comes from a friend or loved one.
Depression is a daily struggle, but having someone to struggle alongside can make the challenge much more bearable. Be that good friend or family member who is available, welcoming, and supportive, and you can change someone's life for the better!
References
WHO (World Health Organization) Depression. 2021 Sept 13. https://www.who.int/news-room/fact-sheets/detail/depression
Rakel RE. Depression. Prim Care. 1999 Jun;26(2):211-24.
Leonard J. Recognizing the hidden signs of depression. Medical News Today. 2022 June 30.
Alexopoulos GS Depression in the elderly. Lancet. 2005 Jun 4-10;365(9475):1961-70. doi: 10.1016/S0140-6736(05)66665-2.
FROM: healthywithstefan.com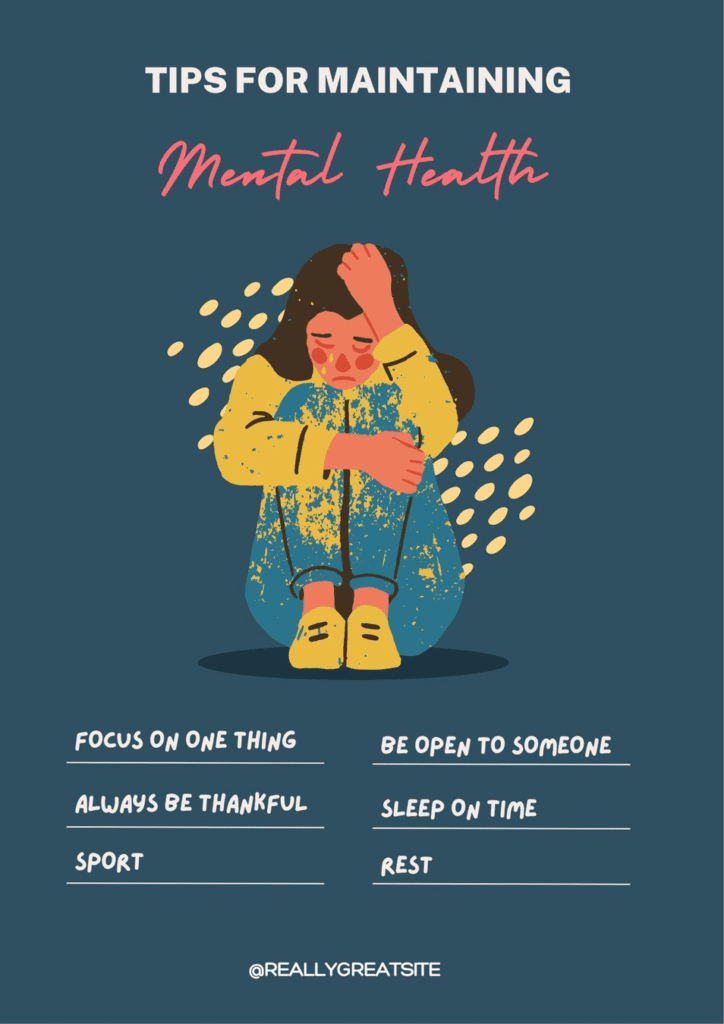 General Coping Strategies for Mental Health
Here are some suggestions for coping with their mental illnesses collected from people who are living with them. As with any list, not every suggestion will work with every person.
Professional / Peer Help
Psychotherapy with a therapist trained to know how to discover and deal with psychological problem areas.
Effective medication in an effective dosage prescribed by a psychiatrist. If a medication is not working for you, work with your doctor to find another medication or therapy that does work.
Join a peer support group.
Consider adding alternative therapies to your treatment plan. Ex: Acupuncture, Acupressure, Homeopathy, Dance therapy, Art therapy, Music therapy, Tai Chi, Yoga.
Help someone else, especially someone with problems like yours.
Work with a counselor to identify and make progress toward career goals
Personal Care
Eat a good solid balanced diet.
Little or no caffeine
No alcohol. Alcohol is a depressant and often interferes with medication.
Get plenty of rest. If you cannot sleep, speak to your doctor.
Stress Management
Exercise. Elevate the heart rate for 15-30 minutes a day, with your doctor's permission. Examples: walking, jogging, aerobics, swimming …
Avoid getting over-committed in time to any activities, so that you feel overwhelmed.
Emotional Self Awareness
Learn how to recognize warning signs of a coming episode of mental illness and take immediate action to head it off or minimize it. Involve your family so they can help you.
Do something to make you laugh, cry, or get angry in a safe place. Ex: watch a sad movie and cry.
Life Enrichment
Indulge in some creative activity. Ex: music, drawing, painting, crafts, creative writing, weaving
Take an adult school class: swimming, art, history …
Engage in volunteer work
Continue to be active with friends and make efforts to develop friendships
Seek out helpful relatives
Spirituality
Learn how to love yourself as an individual, spiritually, and creatively. There is no one else on Earth quite like you.
Meditation. 15-60 minutes of quiet listening to your heartbeat and breathing. However, if you have psychotic issues this can be disturbing for you, so do not use meditation, guided or silent.
General Strategies for Coping with a Loved One's Mental Disorder
Here are some suggestions collected from people who have loved ones with a mental disorder:
Professional / Peer Help
If someone is suicidal, get immediate attention for him or her. Call 988 Suicide and Crisis Lifeline if there is an immediate danger.
Make sure that the person gets the help needed, for example, a therapist or a hospital stay. You may have to help make the appointment and go with him or her.
Get professional help for yourself to learn what your own responsibilities and capabilities are.
Join your own support group, formal or informal.
Learn about Mental Health & Mental Illness
Read and learn all you can about the mental disorder that your loved one has.
Be flexible and patient.
Cures are rarely instantaneous
Learn to recognize the signs of the mental disorder.
Communicate with your loved one
Tell the person that you love and care about him or her.
Visit him or her, especially if hospitalized. A smile, a flower, a picture, or a short hug can make all the difference.
Avoid doing things that trigger the person's disorder, ex: if the person become anxious or depressed when he or she is pressured to hurry, do not try and rush things.
Help your loved one live with the illness
Help the person to keep his or her days structured.
Support efforts to find the medicines and therapies that work best.
Monitor medicine intake.
Encourage physical exercise, good diet, plenty of sleep, creative activities, and sunlight.
Learn to recognize the warning signs that an episode is going to happen, and help your loved one to take action to head it off or minimize it.
Plan future activities for both of you to look forward to.
Maintain social activity with your loved one, such as going to the movies.
Make the best of the person's good days. Drop the housework to enjoy time with your loved one.
Keep guns out of the house.
Have a life of your own.
If the depressed person needs monitoring or assistance, get help.
Plan future activities for yourself alone.
Live one day at a time.
Information from: Mental Health Community Minister Mission Peak Unitarian Universalist Congregation Fremont, CA By Rev. Barbara F. Meyers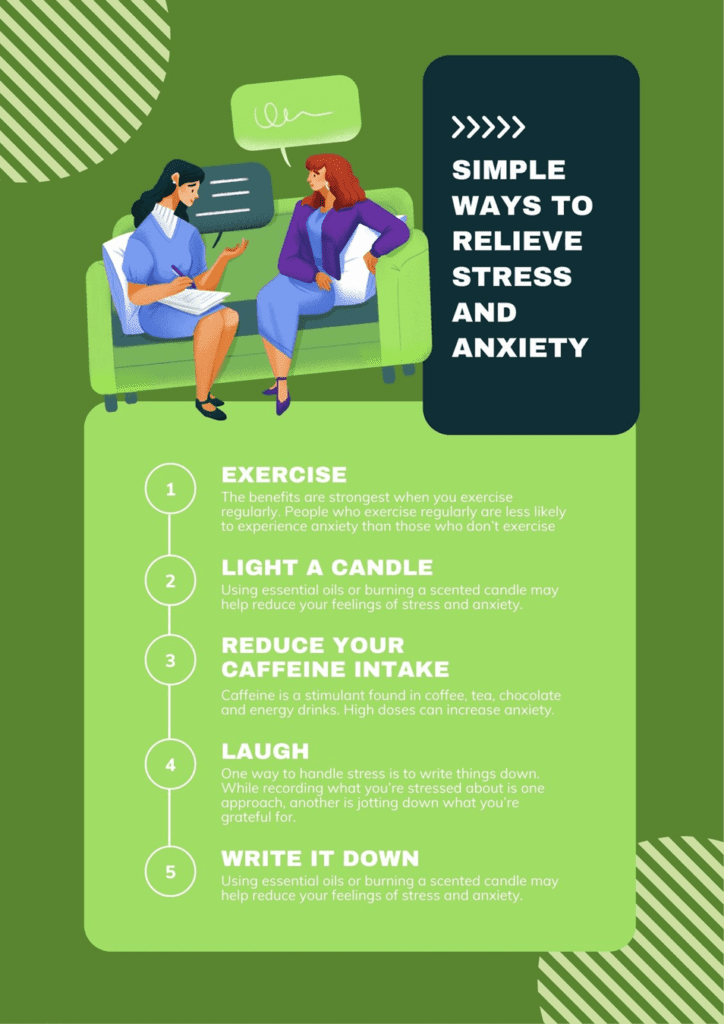 Tips For How To Help A Person With Mental Illness
Because millions of people in the U.S. live with a mental health condition, you likely encounter people with a mental illness in your family or in your daily life. However, if you are unsure of how best to approach someone who may be struggling, these tips may help.
Suggestions on how you may approach someone living with a mental health condition:
Talk to them in a space that is comfortable, where you will not likely be interrupted and where there are likely minimal distractions.
Ease into the conversation, gradually. It may be that the person is not in a place to talk, and that is OK. Greeting them and extending a gentle kindness can go a long way. Sometimes less is more.
Be sure to speak in a relaxed and calm manner.
Communicate in a straightforward manner and stick to one topic at a time.
Be respectful, compassionate, and empathetic to their feelings by engaging in reflective listening, such as "I hear that you are having a bad day today. Yes, some days are certainly more challenging than others. I understand."
Instead of directing the conversation at them with 'you' statements, use 'I' statements.
Be a good listener, be responsive and make eye contact with a caring approach.
Ask them appropriate questions and avoid prying.
Give them the opportunity to talk and open up but don't press.
Share some easy insights as a way of encouraging easy conversation, such as comments about the weather, the community or other.
Reduce any defensiveness by sharing your feelings and looking for common ground.
Speak at a level appropriate to their age and development level. Keep in mind that mental illness has nothing to do with a person's intelligence.
Be aware of a person becoming upset or confused by your conversation with them.
Show respect and understanding for how they describe and interpret their symptoms.
Genuinely express your concern.
Offer your support and connect them to help if you feel that they need it. Ask, "How can I help?" if appropriate, or even, "Can I pray with you now?" if appropriate.
Give the person hope for recovery, offer encouragement and prayers.
Things to Avoid Saying:
"Just pray about it."
"You just need to change your attitude."
"Stop harping on the negative, you should just start living."
"Everyone feels that way sometimes."
"You have the same illness as my (whoever)."
"Yes, we all feel a little crazy now and then."
Things to Avoid Doing:
Criticizing blaming or raising your voice at them.
Talking too much, too rapidly, too loudly. Silence and pauses are ok.
Showing any form of hostility towards them.
Assuming things about them or their situation.
Being sarcastic or making jokes about their condition.
Patronizing them or saying anything condescending.
From nami.org
"Take the first step in faith. You don't have to see the whole staircase, just take the first step."
~ Martin Luther King Jr.
Books On Mental Health Issues
With Sighs Too Deep for Words: Grace and Depress The stigma around mental illness in our culture has had a damaging effect on those who suffer from its grip. As a priest and bishop, Robert Hirschfeld has quietly and secretly been in treatment for depression for decades but now shares his own experience publicly. In this book, he offers short meditations, prayers, and suggestions of how one can follow and call upon Jesus for strength and peace during times of emotional upheaval.
Wrestling with Our Inner Angels: Faith, Mental Illness, and the Journey to Wholeness is Nancy Kehoe's compelling, intimate, and moving story of how she brought her background as a psychologist and a nun in the Religious of the Sacred Heart to bear in the groups she formed to explore the role of faith and spirituality in their treatment – and in their lives. Through fascinating stories of her own spiritual journey, she gives readers of all backgrounds and interests new insights into the inner lives of the mentally ill and new ways of thinking about the role of spirituality and faith in all our lives.
When Someone You Love Has a Mental Illness: A Handbook for Family, Friends and Caretakers By Rebecca Woolis, M.F.T. This book about love and mental health addresses the short-term, daily problems of living with a person with mental illness, as well as long-term planning and care. The book addresses many topics including suggestions for handling the stress of the holidays.
When Your Family is Living with Mental Illness By Marcia Lund Mental illness is a disease like any other. Those dealing with mental illness, whether in their family or with a friend, can be confused or frustrated by a disease that is unpredictable and detrimental. With straight-forward spiritual guidance, this volume is perfect for anyone affected by mental illness. The author, Marcia Lund, uses practical suggestions for encouraging the reader to reconnect spiritually with God. This book can help sufferers resolve issues and find peace.
Voices in the Rain: Meaning in Psychosis A Memoir by Marcia A. Murphy This is the story of a woman's struggle with mental illness through which she finds spiritual meaning and, ultimately, God. As a person who has experience severe psychiatric illness and landed on her feet, the author offers a unique first-person perspective. She is qualified to tell what such illness is like, its symptoms, stigmatization, hospitalizations, and daily life. Ms. Murphy takes you into her world and provides insights into the spiritual meaning of her illness. Her story gives desperately needed hope to others who are ill, their families, psychiatric professionals, as well as to those who know someone who is ill. Experts in the field from Harvard, Yale, Boston University, the University of Iowa and elsewhere have endorsed this memoir.
A Common Struggle By Patrick J. Kennedy & Stephen Fried Patrick J. Kennedy, the former congressman and youngest child of Senator Ted Kennedy, details his personal and political battle with mental illness and addiction, exploring mental health care's history in the country alongside his and every family's private struggles.
You Are My Beloved, Really? By Dr. Harold G. Koenig Simple and easy to read, this book is intended for everyone, Christian and non-Christian, those who are religious or spiritual or neither. It explores how God feels about us. Are we his beloved, as some claim? Or is this just fantasy and wishful thinking. The author, Dr. Harold G. Koenig, is a psychiatrist and medical researcher. He examines the evidence for God's love from Christian, Jewish, Muslim, Buddhist and Hindu perspectives based largely on the sacred scriptures from these traditions. Not a theologian, the author draws from his 30 years in clinical practice, his research, and his personal life in taking a practical approach to the subject. Those of any age with an open mind will find this book enlightening, if not inspiring.
The Mike File: A Story of Grief and Hope by Stephen Trimble Authors story about when his older brother Mike, at the age of 14 was committed to the Colorado State Hospital in 1957 and was released to a group home in 1976. Millions of families cope with such heartbreak. Imagen a vision of how we could have done right by Mike and an alternative effective version of mental health care in America.
Sources For Additional Book Club Books On Mental Health go to: https://shepherd.com/best-books/families-struggling-with-mental-health
In our families, we desire peace. The one thing that is within our control is to let peace begin with us. We cannot make others be peaceful. BUT, we can start the process by bringing a peaceful heart, peaceful words, and to set peaceful boundaries to protect the peace we seek. Let the words inspire peace within.
Books for Caregivers
Grace for the Unexpected Journey: 60-Day Devotional for Alzheimer's & Other Dementia Caregivers by Deborah Barr, 2018
Caring For Nigel: Diary of a Wife Coping with Her Husband's Dementia by Eileen Murry, 2013
The Conscious Care Giver: A Mindful Approach to Caring for Your Loved One Without Losing Yourself by Linda Abbit, 2014
The Relaxation and Stress Reduction Workbook: Sixth Edition by M. Davis, E Robbins Eshelman, & M. McKay, 2018 Stress reduction strategies to relax & better manage stress and well-being.
The Caregiver's Companion: A Christ-Centered Journal to Nourish Your Soul by Deb Kelsey-Davis & Kelly Johnson, 2020 Third-place award in general interest books from the Association of Catholic Publishers.
Parenting Children with Mental Health Challenges
Parenting Children with Mental Health Challenges: A Guide to Life with Emotionally Complex Kids by Deborah Vlock, 2020
Mental Health Children's Fiction & Picture Books
How to be a Real Person in Just One Day by Sally Warner. Knopf, 2001. 12-year-old Kara lives with her mother, who has a mental illness with severe mood swings. Her father takes a job a few hours away from their home, and Kara becomes her mother's caregiver. Kate's mother has a relapse because she stops taking her medicine. Kate is determined to not let anyone, even her best friend, know how serious her mother's illness has become. However, eventually the situation is resolved in a positive and realistic manner. This is a well written story, written with honesty and humor.
Avery G. and the Scary End of School by Sivan Hung, 2022 The end of the school year brings with it many changes that can be hard on little kids. This is a social story created to help children express their feelings about the end of school. It is perfect for neuro-diverse (autism, ADHD, dyslexia, etc.) & neurotypical kids who struggle with change, worry about new things & are working on being flexible. Avery G. will help teach them how to tackle change, including movement breaks & belly breaths.
Anna and the Cat Lady by Barbara M. Josse, 1992 When nine-year-old Anna rescues a stray kitten, it leads her into friendship with Mrs. Sarafiny, an eccentric old woman with many cats and a paranoid conviction that the Martians are after her.
Can I Catch It Like a Cold? A Story to Help Children Understand a Parent's Depression by C. Nault & G. Kelbaughm A story of Alex and his struggle to understand his father's depression. It gives the child knowledge to open discussion about depression.
Eclipse by Kristine L. Franklin The summer after sixth grade holds promise for Trina as she anticipates junior high and the new arrival of a baby sister or brother, but then her father sinks into a debilitating depression.
Facing Mighty Fears About Health by Dawn Huebner, 2022 This teaches four steps to manage 'false alarm' fears. Fun Facts about the body engage children, and a Note to Parents and Caregivers as well as a supplemental Resource section.
Edward, the Crazy Man by Marie Day A story of triumph over misunderstanding. It is a touching, funny, humane, and dynamic tale of one boy's efforts to help one man and to change perceptions about homelessness and schizophrenia.
Helicopter Man by Elizabeth Fensham Pete has a close and loving relationship with his father, who has schizophrenia with paranoid features. His life is turbulent as his father becomes progressively more delusional, and must go to hospital. Pete goes into an excellent foster home, where he begins to experience a normal life, eventually understanding and accepting that his father has a mental illness.
Mama One, Mama Two by Patricia MacLachlan, 1982 Simple story about a young child who has been placed in foster care because her mother has slipped into a deep depression. This story may give hope for children who have had similar experiences, or who are being placed in foster care.
Meeting Miss 405 by Lois Peterson, 2008 A story about a child named Tansy whose mother has to go away to a treatment program for depression, her father must work, and she is cared for by an old, eccentric babysitter with beautiful wrinkles named Miss Stella (or Miss 405). Tansy deals with bullies at school, issues with friends, missing her mom, and learns that depression is a treatable illness, not something to be ashamed of.
Our Gracie Aunt by Jacquelin Woodson, 2002. This story describes two children whose mother has a mental illness, and has left them alone. A social worker arranges for them to go to live with their aunt Gracie. They visit their mother in the hospital, and she explains that "even when a mama loves you, she can't always take care of you."
Sad Days, Glad Days by DeWitt Hamilton, 1995. Amanda, is an elementary school-aged girl and is she experiencing her mother's unpredictable episodes of recurrent depression. The mother also clearly experiences anguish when she sometimes cannot respond to her child's needs. Her mother and father both help Amanda understand that her mother loves her and that the mother's depressive episodes are not Amanda's fault. Amanda conceptualizes her mother's moods as colors. Amanda and her mother learn that despite recurrent depression, the mother can still find ways to show her love for Amanda.
Sometimes I'm Afraid by Wendy Kuskey, 2022 Sergio is a preschooler who cries and screams when he is afraid. With his therapist, he learns practical actions that help with his difficult feelings. This educational book is perfect for younger children who struggle with anger and their peers.
Sometimes My Mommy Gets Angry by Bebe Moore Campbell, 2005 A story about an African American girl living with her mother who has a mental illness. The mother has unpredictable and severe mood swings, causing her to be both angry and depressed. Annie has a plan to cope with her mother's illness, which includes calling her grandmother, making her own snack, putting herself to bed, and getting herself ready in the morning. She is helped by her loyal friends, her Grandma, her teacher, and her community. This book won the National Association for the Mentally Ill (NAMI)'s prize for distinguished literature. It is honest and will prompt meaningful discussion with children. There is an introductory note to adults, explaining that bipolar disorder is an illness.
Tell Me a Story, Paint Me the Sun by Roberta Chaplan, 1991    This is an illustrated book, appropriate for elementary school children and younger adolescents.  It describes a girl whose father loses his job and becomes depressed.  Children may relate to the chapter about the child's disappointment when her father missed her school play.  Although he does not seek treatment or improve, she spends some time with her teacher making art, and gains insight into her own special qualities.  This book is useful for the child who must learn to cope with a chronic parental mental illness.
The Bipolar Bear Family: When a Parent Has Bipolar Disorder by Angela Holloway, 2006 This picture book is about a young cub who struggles to understand his mother's behavior and her subsequent diagnosis of bipolar disorder. The author is a Licensed Marriage and Family Therapist, and has four children with her husband, who has bipolar disorder.
4 Kids Speak Up: Shining Light on Mental Illness. Part of the Lasting Impression Series, from Canadian Mental Health Association. The three booklets in this set are well written and useful with children and parents. The child's book, Kids Speak Up, is excellent for generating discussion with children.
Someone in My Family Has a Mental Illness by Lyne Brindamour, MSW, 2000 This workbook may be out of print. A free electronic copy is available on the resource link at www.parentalmentalillness.org .
Why Are You So Sad? A Child's Book About Parental Depression by Beth Andrews, 2002 Colorfully illustrated book that clearly explains parental depression to children. It includes a note to parents. It has many ideas to help children understand and cope.
Why Is Mommy Sad? A Child's Guide to Parental Depression by Paul D. Chan M.D., 2005 Written by a M.D. to help parents explain their depression to their children. It is short, simple, and has attractive, bright illustrations and thoughtful information which promotes a helpful discussion between adults and children.
Wishing Wellness: A Workbook for Children of Parents with Mental Illness by Lisa Anne Clarke, 2006 An excellent workbook with activities and explanations of mental illness for both parents and children. There are many exercises designed to increase self-esteem, help children deal with common problems, and help parents, teachers, or counselors find the language to explain mental illness. The activities are well suited to being done by the parent and child together. It is also a good basis for a 6 – 8 week group.
Free Workbooks & Material for Children of Parents & Family Members with Mental Illness
Someone In My Family Has A Mental Illness Workbook    By LYNE BRINDAMOUR, MSW from Family Services of the North Shore https://famillemaladiementale.files.wordpress.com/2015/11/someone-in-my-family-has-a-mental-illness-workbook.pdf
For additional reading NAMI recommendations for ages 3 – 12 on understanding emotional and learning challenges go to: https://childmind.org/article/best-childrens-books-about-mental-health/ NAMI
Teens Dealing With Parents & Loved Ones With Mental Illness
Note: When teens and children read these books. Encourage them to discuss what they read with parents, their therapist, teachers, or other adults they trust. This may help them gain better insight and ask questions they may have.
A Blue So Dark by Holly Schindler. Woodbury, Minn., Flux, 2010 As 15-year-old Aura struggles alone to cope with the increasingly severe symptoms of her mother's schizophrenia, she begins to fear that her own artistic ability and genes will one day result in insanity. However, Aura discovers that art, love, and the family are profoundly linked and together may offer an escape from her fears. This is a well written book about an interesting, resilient teen.
Homecoming by Cynthia Voight. Fawcett Press,1987 The Tillerman kids' mentally ill mother left them one day in a car in a mall parking lot. Their father, too, had left them a long time ago. Thirteen-year-old Dicey, the eldest of four, takes care of her family, and eventually leads them on a long journey to find the grandmother they hardly know. It is a difficult, but successful reunion, and Dicey and her siblings must begin to learn to accept their grandmother's care.
Dicey's Song by Cynthia Voight. Fawcett Press, 1987. Dicey's Song continues the story of Dicey and the Tillerman children. This book was awarded a Newbery Medal for Children's Literature.
Just a Story by Steven Keewatin Sanderson & Sean Muir The Healthy Aboriginal Network, 2009 This graphic novel (comic book size) is about a brother and sister who develop symptoms of anxiety and depression as they cope with alcoholic parents. They receive help from their teacher and school counselor.
Psychoeducational Resources: I'm Not Alone: A Teen's Guide to Living with a Parent Who Has a Mental Illness by Sherman, M. & Sherman, D, 2006 This excellent book provides readable, accurate information for adolescents, and includes an experiential component that helps them process their own experience while they develop and improve their coping strategies. This book could be worked through with an individual young person, or used as a curriculum for a youth group.
The Flying Troutmans by Miriam Toews. Knopf, 2008 Canadian novel about a woman who takes her sister's children on a road trip to find their father, after her sister is hospitalized with psychosis. The writing and characterization are excellent, and it is a positive story.
Pictures in the Dark by Patricia McCord. Bloomsbury USA Children's Books, 2004 This novel is set in 1950s Seattle. Twelve-year-old Sarah and her older sister, Carlie, know that their lives are different from those of their peers. Their mother clearly suffers from a serious mental illness, but their father does not seem to recognize the difficulties his daughters are having. This story describes family dynamics when one parent is suffering from a mental illness and the other fails to recognize the problem. The bond between the sisters grows and is strengthened through adversity. Though there is no clear resolution, the book has a strong message of hope, love, and forgiveness.
Please Don't Cry, Mom by Helen Denboer, 1994 This is an illustrated book, written for elementary school aged children. However, its description of recurrent major depression is excellent and could be valuable for adolescents and some adults. It describes a boy's feelings about his mother's depression and her resistance to treatment. Her husband sets limits, and she does accept treatment and begin to improve. The book describes the importance of family participation in the mother's treatment and the importance of taking one's medication regularly.
Wild Roses by Deb Caletti, 2005 A novel about 17-year-old Cassie Morgan, who lives with her stepfather, a brilliant, world renowned violinist and composer. He develops a serious mental illness, and Cassie tries to hide his behavior from the outside world, while she falls in love with his gifted student.
What I Call Life by Jill Wolfson. Henry Holt & Co., Macmillan, 2005 This story tells about 11-year-old Cal Lavender, who must go to a foster home when her mother, who has always been eccentric, is taken to a mental hospital. Cal is cared for by an elderly lady who teaches her, and the other 4 girls in the home, how to knit, and in the process, they share their stories. Cal is happily reunited with her mother in the end.
How to tell if your child needs a therapist
By Jim Schroeder
According to a pediatric psychologist, these are 5 questions a parent should ask.
Have you ever observed your child behaving in a way that made you wonder whether you should seek outside help, in the form of counseling? If so, you are not alone. Whether it's the intensity or frequency of a behavior, such as repeated anxiety in new situations, or something that causes a lot of conflict and strife at home, such as a strong-willed, defiant kid, or just an altogether odd set of actions, there's a wide gamut of behaviors that can leave parents wondering if professional intervention is needed.
While there is no absolute set of rules or guidelines about when to seek professional help, there are a few questions to ask yourself that can help you discern whether it is time to do so…

1. Is my child's behavior significantly impairing a critical area of functioning?
Anyone that has been around youth long enough knows that all kids do certain things that make you say, "huh?" Especially during transition times, it's not uncommon for kids to show transient changes in mood or behavior that not only causes stress for them, but for everyone in the household. And the more kids you have, the more potential opportunities there are for negative interactions to occur.
The question all parents should ask is whether a particular issue (or set of issues) is persistently impairing functioning in three critical areas: school, socialization, and overall health and well-being. If a child's academic performance starts to show noticeable decline, if they start becoming (or simply have been) increasingly withdrawn, and/or if they are staying up later at night and not eating normally, it may signify that seeking professional help is warranted.
2. Am I, as a parent, overwhelmed with managing my child's demands?
As any parent knows, you can only give what you have. And if you are feeling chronically overwhelmed and exhausted in managing a particular challenge that your child brings, then it's probably time to seek help. It's natural for us as parents to feel tired and frustrated at various times in this role. But if you find that your child's difficulties are leaving you feeling jaded, and not able to "reset" in a healthy way, then this only increases risks for both the child and the family as a whole.
3. Is my son or daughter altering the family environment in an unhealthy way?
The previous consideration focused on a parent's individual capacity; this one focuses on whether or not a child's behaviors are altering the larger system in a way that is unhealthy for anyone. For example, a child who exhibits significant mood dysregulation or defiance/antagonism that causes everyone else to "walk on eggshells" at home, and parent's authority to be undermined, is clearly in need of professional assistance. It is noble for a parent to "do whatever it takes" to help a child, but this nobility can turn into dysfunction if the system itself becomes chaotic or perpetually tense.
4. Does my child seem in a chronic state of distress?
Anxiety and changing moods are part of being human, but when these emotional states fluctuate like waves in a stormy sea, it's not a healthy situation. There are two ways in which a psychological condition are diagnosed: The first has to do with significant impairment and the second circumstance relates to a high level of persistent distress. Sometimes both are present in a particular condition, such as an anxiety disorder that causes changes in sleep patterns, socialization, and grades.
Sometimes a young person might seem to be "holding it together" from an outside perspective, but he or she might be "straining at the seams" to do it. This can especially be the case for teens, such as those with an eating disorder, who seem to be excelling academically and/or athletically, but are really struggling internally, which is resulting in dire health concerns.
5. Do I feel disconnected from my child and worry about the path he or she is heading for?
Of all the guidelines, this might seem like the most nebulous. Children in these situations are not necessarily in crisis, and parents and families aren't necessarily feeling overwhelmed by the current situation, but the "writing on the wall" is that a youth is making decisions, often independent of parental input, that are increasingly concerning.
I have seen several families who fit this description and it is both a fearful and humbling situation as a parent to admit that this is the case. But sometimes, seeking professional help during this critical time can help avert a seriously unfavorable outcome. Parents with a high level of connection with their youth can work through more serious challenges without professional support than those parents who do not have this level of connection. Although disconcerting, it is important to be honest about where you stand with your child.
Ultimately, some parents will never need professional psychological services for their child, but often even the most committed, faithful parents will. Over the years, I've had great admiration for parents who walk into my office, are forthright about the challenges, and are open to the possibility that they "might be part of the problem."
Even being a pediatric psychologist does not excuse me (or my wife) from personal and parental challenges that come with raising children. Nothing has humbled me more than being a parent, and if there comes a time that I need to seek outside professional assistance for my child, I hope that I'd be open to this.
In the meantime, if you are a parent discerning this question, it should be reassuring to know that sometimes, just the act of seeking out help results in improvement even before any interventions occur. Taking the first step to reach out might be the hardest, yet most critical step.
From Aleteia website /// Published 4/25/18
"For what it's worth: it's never too late …. to be whoever you want to be. There is no time limit, stop whenever you want. You can change or stay the same, there are no rules to this thing. We can make the best or the worst of it. I hope you make the best of it. And I hope you see things that startle you. I hope you feel things you never felt before. I hope you meet people with a different point of view. I hope you live a life you are proud of. If you find that you are not, I hope you have the courage to start all over again.
~Francis Scott Fitzgerald
Celtic Prayer For New Beginnings Images
This night and every night
grant to me light.
This night and every night
grant to me peace.
This night and every night
grant to me rest.
This night and every night
grant to me grace.
This night and every night
grant to me joy.
Disclaimer: This information is not provided by medical professionals and is not intended as a substitute for professional medical help or personal counseling. If you need immediate help, contact a medical professional, a suicide prevention hotline, or call 9-8-8.
If you have any thoughts on subject matters you would like to see featured in the future, or if you would like to write an article to be included as a handout or would like to be part of the ministry, please contact Nancy Mahoney-Rajs