Reflection on Divine Mercy Sunday
In the Roman Catholic Church, Easter has always been a celebration of the great love that God has for His Creation. A love that was shown when the Divine Son became incarnate and dwelt among us, sharing in our lot, showing us the way to the Father, and making the perfect offering in atonement for our sins.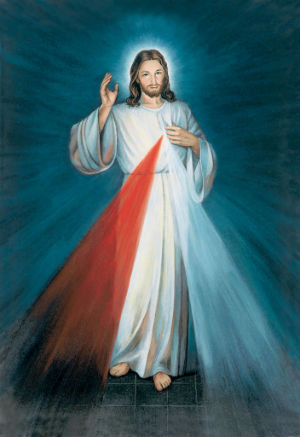 On the First Sunday after Easter the Church celebrates Divine Mercy Sunday, a feast based upon the private revelations of Jesus to St. Faustina. In extending this Feast to the entire Church, Pope John Paul II re-emphasized the resurrection context of Easter, citing St. Faustina's diary: "Humanity will never find peace until it turns with trust to Divine Mercy." In describing this feast, Blessed John Paul II says: "Divine Mercy! This is the Easter gift that the Church receives from the risen Christ, a gift which it offers to all humanity."
The first epistle of St. John declares to the entire world that "God is love;" and in his encyclical letter Rich in Mercy, Blessed John Paul II wrote, "Mercy is love's second name." If we understand mercy in the Biblical sense, then without any fear of error contrary to the faith, it can be said, as John Paul II said, that mercy is the greatest attribute of God. This Biblically formulated relationship between love and mercy is expressed by St. Faustina when she says: "Love is the flower, mercy the fruit."
Divine Mercy is the form that God's eternal love takes when He reaches out to us in the midst of our misery and our brokenness. Whatever the nature of our need might be — sin, guilt, suffering, or death — He is always ready to pour out His merciful, compassionate love for us, to help us. Where there was only despair, loneliness, and heartache before, comes joy, fruitfulness, and abiding love.
The message of Divine Mercy is simple. It is that God loves us and wants us to approach Him in constant prayer, repenting of our sins while asking Him to pour His mercy out upon us and upon the whole world. He wants us to receive His mercy and let it flow through us to others, extending our love and forgiveness to others just as He does to us.
We must realize that God does not do anything in portions. He is infinite and the amount of His Divine Mercy available to us is infinite. The only limiting factor is us. The more we trust in Jesus, the more graces we will receive and the more all will come to share His joy. This is the message Jesus is giving us through today's devotion to his Divine Mercy, a mercy that he tells us is unfathomable and which he wants us to spread throughout the world through our own actions and love for others.
by Deacon Bill Polingue