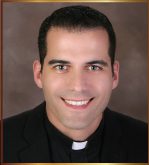 REFLECTION ON THE READINGS
My mother never had difficulty staying awake—she would wait up for every family member until they were home safe in their beds. Or she'd stay up all night just to make sure bags were packed and all was ready for an adventurous summer road trip the next day.

I didn't really appreciate my mother's secret to staying awake until recently. It wasn't like mom danced around the living room or drank pots of coffee to stay awake (although she was known to engage in both of those activities from time to time). But recently I read somewhere that sleep experts advise engaging in lively conversations to get your mind moving when you're feeling drowsy. Conversation—that was mom's secret during her late-night vigils—conversations with God. Mom has always been a world-class prayer. She says the rosary nightly and a Hail Mary or Our Father whenever she has the chance. She shares everything with God—her hopes and dreams for the family and her greatest concerns.

While the rest of the household slumbered, she kept watch with her best friend and was ever ready at the appointed hour. I can't help but think of my mother's superhuman-like power to wrestle sleep each time I hear Jesus' command to "stay awake!"

Friends, Advent is not our annual invitation to winter slumber and daydreams about white Christmases and chestnuts roasting on open fires. There are "days to come," Isaiah reveals, when peace will replace the violence of our churning, restless world. "Stay awake!" Jesus reminds us, so that we don't miss the signature of those days. Nor the vital decisions each of us has yet to make.
PARISH CHRISTMAS TREE ORNAMENT THEME
It has been the tradition here at St. James for parishioners to participate in the decorating of the narthex/gathering space Parish Christmas Tree. Each year a theme is selected, and parishioners are invited to hang an ornament that corresponds to the year's theme.

This year's ornament theme is FAMILY.

Whether it's an ornament with your family's picture or a Christmas image or symbol that best characterizes your family, please feel free to hang your FAMILY-inspired Christmas ornament on the parish Christmas tree beginning the weekend of December 10th, the day we joyfully light the parish Christmas tree after the 5pm Mass.

The ornaments are welcome to hang on the parish Christmas tree through the weekend of January 9th, the Feast of the Baptism of the Lord, the day which concludes the Christmas season.
Quote of the Week
To pay attention, this is our endless and proper work