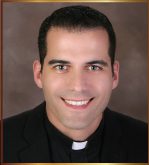 Reflection on the Readings
Today we celebrate the Sunday of the Word of God, established just four years ago to remind us that scripture is central to our faith.
Why is scripture central to our faith? Because we believe that the Bible is the inspired Word of God. We believe that the Bible contains truth and power that can not only help us to know who God is and who we
are, but it can also help guide us to where God wants us to go – HEAVEN!
Think of the BIBLE as Basic Instructions Before Leaving Earth!
But here's the thing, it's tough for the Bible to have any real impact in our lives if we don't grow in our understanding of it through study and prayer. St. Jerome is famously credited with saying, "Ignorance of the Bible is ignorance of Christ." It's kind of like when you meet somebody for the first time. And let's say you already have some familiarity with the person. Perhaps you read their bio on LinkedIn or have visited their Facebook page or seen their Instagram. Maybe someone you know has relayed a story about where they're from or where they work. Can you confidently say that you know that person? I remember as a kid how a "friend" really became a friend once my classmate or neighbor visited my home, met my parents, and saw my cool lava lamp or favorite soccer star poster. Close friends, people who really "know" us, can only claim that privilege if they've entered into our world.
By entering the world of the Bible, we spiritually enter Jesus' world. We "visit" His home, if you will, and meet His family, the apostles, and the prophets. This is especially important to consider as we look to our readings this Sunday. It's kind of hard to really grasp what St. Matthew is saying if we don't have a clue about what's going on in the passage from the Prophet Isaiah that St. Matthew quotes. Put another way, not having a sense of the importance and thus the implications of Isaiah's prophecy is kind of like walking into the middle of a conversation while someone is telling a hilarious joke just as the punchline is delivered. It's hard to get the joke or fully appreciate a riveting story if you don't know what came before.
If you're like me and so many of our Catholic brothers and sisters who have struggled to read the Bible or just haven't made a serious effort to open it's pages, I recommend The Bible in a Year Podcast by Father Mike Schmitz and Ascension Press. For the past two years it's been at the top of the podcast charts. Father Mike walks you through the entire Bible in 365 episodes, providing commentary, reflection, and prayer along the way. I've taken the journey of The Bible in a Year and I invite you to take the journey as well. It's great!
Quote of the Week
Fear only two: God, and the man who has no fear of God.