Pastor's Message
October 30, 2022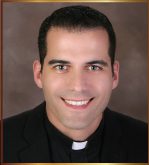 News & Updates
Of the many successes from these past few months, I would like to highlight that the parish exceeded this year's Archdiocesan Annual Appeal goal!
Below is a chart outlining some of the details regarding our parish goal and our rebate.
| | | | | | |
| --- | --- | --- | --- | --- | --- |
| 2022 Stretch Goal | 2022 % of Stretch Goal as of 6/30/22 | 2022 Pledges as of 6/30/22 | Maximum Rebate | August 2022 Rebate Check Received | Remaining Qualified Rebate Balance |
| $49,665.00 | 138.08% | $68,576.00 | $18,911.00 | $12,302.00 | $6,609.00 (January 2023) |
As was announced in the Spring, any rebate funds from the Annual Appeal were to be used to refinish the 6 weather-beaten, large, exterior wooden doors of the church. We have done so already, and we are in the process of planning to refurbish the hardware of the doors as well. We may even have enough funds to repair water damage and stains to the narthex/gathering interior space, including a fresh coat of paint.
Saint James Campus Redevelopment Update
The Requests for Proposals (RFPs) for the school and convent properties were sent to over 50 companies. The submission due date for responses to the RFPs is November 17th. At that time, officials from the Archdiocesan Office of Property Management Administration, members of the parish's Campus Redevelopment Committee, and myself will evaluate the submissions.
My plan is to schedule a parish Townhall meeting shortly thereafter where parishioners will hear a presentation regarding the results of the RFPs and have an opportunity to ask questions. We are eager to review the proposals and present them to you.
Centennial Capital Campaign Feasibility Study
Thank you to everyone who has participated in our feasibility study regarding the potential construction of our parish center. The results have been very positive, and many families and individuals have participated thus far. If you have not yet participated, there is still time to participate.
We are working with the Archdiocesan Development Office who will continue to reach out to schedule time to speak with families. We anticipate more updates regarding the study and the parish center in the upcoming weeks. Thank you.
Lease of the Saint James School Building
Temple Sha'arey Shalom
The parish has negotiated a 10-month lease with Temple Sha'arey Shalom for the main floor of the school building. The lease will provide a temporary home for Temple Sha'arey Shalom here in Springfield, in addition to providing us with a tenant as we begin the formal process of soliciting proposals for the redevelopment of the school and convent properties.