Message from Fr. David March 13, 2022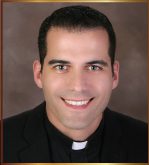 NEWS & UPDATES
Praying for Peace in Ukraine – During the season of Lent, we will use the many opportunities we have already scheduled for public prayer in the parish to include the prayer intention for Peace in the Ukraine. Whether at our weekly Wednesday Holy Hour with Evening Prayer (7pm/Church) or Monday Night Rosary (7pm/Church), our hearts and prayers will be with the people of Ukraine and Russia.
2022 Annual Appeal: The 2022 Annual Appeal is well underway. St. James is currently at $33,285 – PLEDGED. This is almost 70% of our goal of $49,665. THANK YOU to the 101 parishioners who have joined me in participating thus far. Imagine if 100 more parishioners participated…we'd be close to goal, if not there already! Remember, whatever is raised over goal comes right back to the parish, and that money will be used to refinish the exterior wood doors of the church in time for the church's 20th Anniversary this summer. Friends, I EARNESTLY ask you to participate If you have not done so already. Please give whatever you can give… ($50, $100, $250). Every gift helps get us closer to our goal. You can participate by:
Filling out a pledge envelope near the info center in the church narthex/gathering space. You can drop
off the pledge card in the collection baskets or the mail slot in the rectory.
Via our online giving platform Parish Pay
Via the Archdiocesan website: rcan.org/sharing
Contact the rectory office and we'll assist you
We need your support and participation to hit our goal!
Hallow App for Mobile Devices: St. James has partnered with Hallow this Lent. Hallow is a Catholic prayer and meditation app that helps people from all faiths deepen their relationship with God through audio-guided prayer sessions. The app is the #1 Catholic app in the world and has over 3,000 prayers to choose from. The app has been downloaded more than 1.5 million times worldwide and adds new content all the time! To get started, scan the QR code in your bulletin or on the Hallow banner in the narthex/gathering space and select our parish in the search bar. From there, you can either create a new account or log into your existing free account to be able to access Hallow Plus.
We hope you'll use Hallow this Lent to help you get to know God through the last words of Jesus.
Quote of the Week
Some people want to see God with their eyes as they see a cow and to love him as they love their cow— they love their cow for the milk and the cheese and the profit it makes them. This is how it is with people who love God for the sake of outward wealth or inward comfort.