From the Pastor – 3/20/2016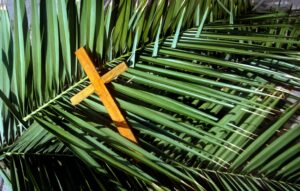 "ONE WHO HAS SURRENDERED TO IT  KNOWS THAT THE WAY ENDS ON THE CROSS-EVEN WHEN IT IS LEADING THROUGH THE JUBILATION OF GENNESARET OR THE TRIUMPHAL ENTRY INTO JERUSALEM."
(A Lent Sourcebook: The Forty Days, Book Two, p. 179)
[break]
We have come to another Holy Week, the most serious and solemn week in the church's year. This week we commemorate the saving acts of Christ's suffering and death and glorious resurrection. How many Holy Weeks have we experienced in our lifetime? Do we have greater appreciation of the significance of these events in our lives and our life as a parish? While Jesus was acclaimed with praise and palms on his entry into Jerusalem, by Friday he is dead. This shows us the fickleness of humanity.
[break]
For Jesus, though, these were the most serious events of his life. While he came to bring God's kingdom to the apostles and the people he met, those who were threatened by him handed him to the Romans, who mercilessly beat and killed him. The agony he went through in the Garden of Gethsemane only shows us the seriousness of these events and that Jesus knew this was the time he was to die to save us all.
[break]
If you have seen the movie, the Passion of the Christ, then you know the beating that Jesus took for our sakes. As merciless and brutal as the Romans were, they did not know that they were cooperating with God's plan of salvation. It is through the death of Jesus that we are saved from our sins, and because of the resurrection that we are restored to right relationship with the Father. Sometimes, though, we take all these events for granted because we are more concerned about getting enough palm today than we are about reflecting on the events that made a difference for us.
[break]
Holy Week should give us reasons to pause and reflect on the generous love of the Father for us in giving Jesus to us in life, death and resurrection. The days of Holy Week, especially the Triduum, are our high holydays. They commemorate the most important events in our lives, and the center of our faith. They also remind us that Jesus came to save us all from our sins, and not to condemn us because of them.
[break]
Today is traditionally a day of peace and forgiveness for many cultures, including the Italians. If there is a disagreement, or even worse, between individuals then pieces of palm are exchanged as a sign of peace and friendship. The palm, though, is a reminder that Jesus entered Jerusalem to the acclamations and cheers of the people. As the Messiah, he brought the Kingdom of God up close and personal to his people, and to all of us. The best acclamation and praise we can give him is to live as faithful disciples and followers of his, carrying with us his death and resurrection. It is these events which have made a difference for us and allow us to live as a transformed people.
[break]
I invite you to join us for the events of the Triduum. These are the days to especially reflect on those events which not only saved us but made a difference for us and our world, even if the world doesn't completely comprehend or believe in them.
[break]
HAPPY PALM SUNDAY!!![break]
FR. JOE