From The Pastor – Mar. 11, 2018
"COVER US, LORD, WITH YOUR MERCY. BE OUR PROTECTOR AND KEEP US FROM THE DANGERS WITH WHICH OUR SIN SURROUNDS US. BE OUR LIBERATOR AND SET US FREE."
A Lent Sourcebook: The Forty Days, Book Two, p. 59
It seems that Lent is just lying by, and we are trying to keep our focus on our relationship with God and what we are attempting to improve upon. Sometimes, though, it seems that there isn't enough time to accomplish what we had hoped to do. We don't have to accomplish everything in Lent, for we have the rest of the year and the rest of our lives to accomplish our goals.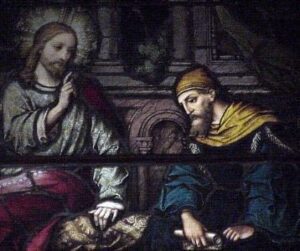 In today's Gospel, Jesus encounters Nicodemus who is looking for answers to his questions. Nicodemus had originally approached Jesus at night because he didn't want to be noticed since he was a part of the temple leadership. Nicodemus is not just looking for answers to his questions, he is also looking for truth in his life. Jesus is Truth, the truth of the Father's love. Jesus is the source and the end of Nicodemus' searching as well as our own.
Jesus offers us not just answers to questions we may have but an encounter with the Father. Jesus is the way to the Father and to each other, and he has shown us how to accomplish this. He gave us an example of care and concern, and invites us to follow his example. He invites us to come and listen, learn and experience his presence in our lives in the midst of the church. His life, death and resurrection are opportunities for us to celebrate the wonder that he is for us.
As we continue our Lenten journey, it is always good for us to look back on what we had hoped to accomplish and to look forward in faith to the glory of new life. Easter and the Easter Season may occur after Lent, but we are a people of hope, of resurrection and new life each day, and we are invited to radiate these to one another each day we encounter one another.
While Nicodemus may have encountered Jesus secretly, we can encounter him each day in prayer, in the Word, in the Breaking of the Bread, and in one another. All of this can help make the remaining weeks of Lent more enjoyable for us.