From The Pastor – Jan. 1, 2017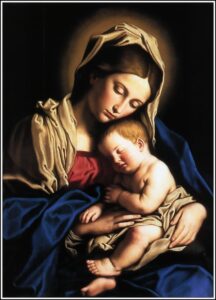 "BY YOUR MIRACULOUS BIRTH OF THE VIRGIN YOU HAVE FULFILLED THE SCRIPTURES: LIKE A GENTLE RAIN FALLING UPON THE EARTH YOU HAVE COME DOWN TO SAVE YOUR PEOPLE. O GOD, WE PRAISE YOU!"
(A Christmas Sourcebook, p. 96)
WELCOME TO 2017! We begin a new year, with new hopes and dreams. As we look back on last year, Hopefully, we have grown in our faith, and have come to discover even better the gift that Emmanuel is to us. It is always our thought that this year will be better than last year in many ways. Hopefully, as a parish we will continue to grow as the vibrant, welcoming community that we are as Saint James the Apostle. Many of us make resolutions for the new year, which we eventually break or fail to keep. Maybe the best resolution we can make is to be as open and receptive to the Lord as possible so that we can better reflect his love in our lives as individuals, as families and as a parish.
Today, we celebrate the Feast of Mary, the Mother of God. This is one of the roles that Mary had as she offers us the opportunity to celebrate the gift of her Son, Jesus. She nurtured him as he grew, and she watched him as Jesus began his public ministry. Mary offers to us what she offered Jesus, her faith, her love and her willingness to enter into a continuous dialogue with God that allowed her to be the role model for us all. Mary raised motherhood to a new level of respect and offers all mothers the opportunity to celebrate motherhood with dignity and respect.
In today's Gospel, Mary receives the shepherds who went looking for the Messiah, after being told that he had been born. We have discovered the Messiah in the
Word, the Eucharist, and hopefully in the lives of each other. Jesus is Emmanuel, God with us, for all people for all time, and he has revealed the secrets of his heart to us in the hope that he will make a difference for us. Then we can forward and do the same for each other. This Christmas Season is that time of the year to recognize the gift that Jesus is to us, as he reminds us of the Father's genuine love for us all. The Christmas Season extends through the Baptism of the Lord, he immersed himself in public ministry for his people.
On behalf of our entire Parish Staff: FR. SILVANO, FR. EVEREST, FR. JOHN, DEACON DAN, DEACON JERRY, DEACON ART, NANCY CAPUTO, ANASTASIA PATRAGNANI, MATT WILSON, KIM MAILLEY, CAROLINE PONTERIO, OUR SUPPORT STAFF & MYSELF, I want to offer you and your families our wishes for aHAPPY, HOLY & BLESSED NEW YEAR. May 2017 be a year for you, your families, and our parish, a time to grow in the grace and love of our God.
HAPPY NEW YEAR!!! ~ BUON ANNO!!! ~ FELIZ ANO NUEVO!!
~ FR. JOE!