From The Pastor – April 3, 2016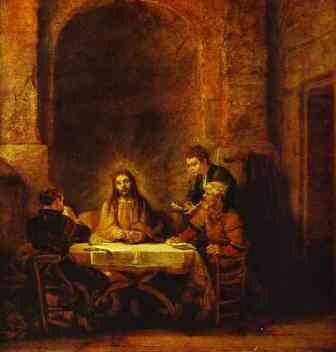 "…YOU, THE ETERNAL FATHER, ARE THE TABLE THAT OFFERS US AS FOOD
THE LAMB, YOUR ONLY BEGOTTEN SON…
AND HE SERVES US HIS CHARITY FOR OUR NEIGHBORS
AND HUNGER TO HAVE AS OUR FOOD
SOULS AND THE SALVATION OF THE WHOLE WORLD FOR THE FATHER'S HONOR."
(An Easter Sourcebook: The Fifty Days, p. 28).
MYSTAGOGIA! It's a strange sounding word, unfamiliar to many of us. It is a Greek word and it means a deeper reflection on the Easter experience. Actually, it is the fourth part of the RCIA process, when Neophytes and Candidates are supposed to reflect on the meaning of the resurrection in their lives. For our purposes, it means that we have these Great 50 Days of the Easter Season to reflect on the resurrection and its impact on our lives.
A good place for us to begin is to ask ourselves whether we are a people of hope or not. In rising from the dead, Jesus not only restored us to the right relationship with the Father, but he also instilled within us the sense of hope about the present as well as about the future. Hope means we live in the ongoing encounter with our God who offers us the new life of the risen Lord. Hope also allows us to live with a sense that all is well, even if it seems to be just because of the presence of Christ in our lives.
In today's Gospel, Thomas wants to see for himself that Jesus is truly risen as the other apostles have told him. It was easy for them to believe because they saw Jesus on Easter, but Thomas was absent. How many times, though, do we want evidence from God that he is present in our lives? More times than we would like to admit. Sometimes, we want a sign form Jesus that he is present in our lives, and then we get upset when he doesn't do what we want or ask. Yet, he is constantly present in our lives, reassuring us that all is well because he is a part of who we are and how we live. We have to be open and receptive enough to recognize that presence as an ongoing encounter with our God in the very lives we live. If we fail to recognize his presence in our lives, then we tend to live without hope and with despair. It's like we give up because we can't see or touch Jesus as the apostles did. But we do see him and touch him in the Word, the Eucharist, the world around us, and especially in each other. If all of this does not convince us, then nothing will.
Today is also DIVINE MERCY SUNDAY, declared by John Paul II. It is the day to celebrate the mercy of our God as revealed in his Son, Jesus. Today reminds us that the loving mercy of our God is never ending. Today is even more appropriate since this is a Year of Mercy, as declared by Pope Francis. So, at least two popes are reminding us of the constancy of the mercy and compassion of our God, with the hope that we will experience them in our lives, as we attempt to bring his Good News to others. But mercy, compassion, forgiveness, equality and justice should not just be celebrated today, but every day that we are called to live what we believe, and to be examples of Christ's love and mercy for all those we meet each day, even the ones we don't like!
HAPPY DIVINE MERCY SUNDAY!
FR. JOE!