"THE PEOPLE SAY THAT THE SUN DANCES ON THIS DAY IN JOY FOR A RISEN SAVIOR… THE GLORIOUS GOLD-BRIGHT SUN WAS AFTER RISING ON THE CRESTS OF THE GREAT HILLS, AND IT WAS CHANGING COLORS…
IT WAS DANCING UP AND DOWN IN EXULTATION AT THE JOYOUS RESURRECTION OF THE BELOVED SAVIOR OF VICTORY…"
An Easter Sourcebook: The Fifty Days, p. 3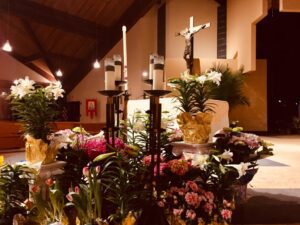 It is Easter! This is a day of resurrection, new life and hope. We have come through the forty days of Lent, and survived the Nor'easter storms of last month. Easter always makes us feel good because it always occurs in spring, when the earth is being recreated.
Jesus has come through suffering and death to the glory of new life. He offers this new life to us so that we can bask in the wonder of the resurrection and celebrate the new life he has gained for us. But by his resurrection Jesus has also restored us to a right relationship with the Father. So we are called to live as a people renewed. He invites us to live as a people transformed, as we radiate the hope that comes from being God's children.
But Easter is more than just one day. Easter is a 50 day period of Mystagogia. This is a time for us to bask in the glory of the resurrection and new life as we reflect on the impact that the resurrection has on us as a people of faith. As we celebrate this new life it is often easy to forget what this means as we can slip into despair and hopelessness, especially if we are facing serious issues in our lives. But Jesus reminds us that he is present in our midst and that every time we gather around the Lord's Table, we celebrate the death and resurrection renewed for us again and again. This helps sustain us on our journey of life.
Easter also helps us to put behind the tough winter we had and bring hope and new life to all we meet. Our hope as children of God is not just about the future but about the present and how we can transform the world by the presence of the Risen Christ in our lives and in our church. Easter is such an incredible season that there are foods made only at this time of year to celebrate the Resurrection of Jesus and the new life he has gained for all of us. We have put our Lenten discipline behind us. This season is the time to glory in the Lord for he has given us a new lease on life and in showing us his generosity and love for us, has also shown us how to live as renewed children of God.
On behalf of our entire Parish Staff: FR. SILVANO, FR. JOHN, DEACON ART, DEACON JERRY, DEACON DAN, NANCY CAPUTO, KIM MAILLEY, MATT WILSON, ANN MARIE GESUALDO, CAROLINE PONTERIO, OUR SUPPORT STAFF AND MYSELF, I want to extend to you and your families our best wishes for a HAPPY EASTER AND EASTER SEASON. May these ifty days help all of us bask in the glory and wonder of the resurrection and new life.
HAPPY EASTER!! ~ BUONA PASQUA!!! ~ FELIZ PASCUA DE RESURRECCION!!!

FR. JOE