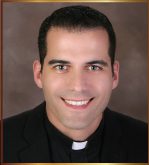 Christmas is often the occasion when we take a trip down memory lane. We remember not only the traditions, sights, and smells of Christmastime, but especially the people who, for various reasons, may or may not be with us this Christmas day.
In our home growing up, the nativity scene with its manger and figurines would ornately be displayed in our family's living room. Looking at the images of Mary, Joseph, and the baby Jesus, I would envision what Jesus' family was like in comparison to mine.
I don't believe it is farfetched to think that Jesus would have had similar curious ponderings about his own family during those hidden years of his life that we hear about in the Scriptures. Why wouldn't he, right? If we take a close look at the beginning of the Gospel of Matthew, we will read a lengthy list of names belonging to Jesus' genealogy – and what a list of characters! Certainly, worthy of disputing any of our claims that our family is a unique lot!
In this litany of saints and sinners – Jesus' literal flesh and blood relatives – we see a whole assortment of personalities who gave rise, eventually, to the Christ who would save us. We find the patriarchs Abraham, Isaac, and Jacob; we find the great King of Israel, David; in the same lineage, we find the name of the harlot Rahab; and the mother of Solomon, Bathsheba, with whom King David had an adulterous affair; we hear of Rehoboam, one of Israel's most dysfunctional kings; finally, we hear of Zadok, Achim, and Elliud, figures about whom we know nothing. What a bunch! And through them, all God was laying out a path for his son Jesus.
And as you can see, this "path" wasn't the yellow-brick road that we would all imagine it to be for the Prince of Peace. The many names that make up the hereditary lineage of Jesus are peppered with morally unadulterated and totally depraved persons. Exemplary lives, wasted lives, deeply compromised lives, forgotten lives – yet all of them were integral parts of God's divine plan to save the world. Those with seemingly perfect lives and those with obviously not-so-perfect souls contributed to the flesh taken on by the Word of God!
And so, as those beloved and not-so-beloved family members – in memory or in-person – fill our homes, our hearts, and our minds this Christmas, we should remember the rather untidy family line from which Jesus descended. And with that, be reassured that God knows what he is doing. That no matter how out of control our families may seem or in control they may be, God has a plan…and we are all a part of it. And just in case you forget, just take a gander at the baby in the manger, and all those around him!
Merry Christmas to you and your family!