WHAT IS A "BOX VILLAGE"?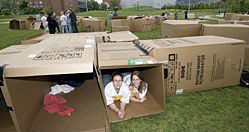 What is it like to be homeless and living on the streets? A cardboard box can make a world of difference to you by providing some much needed shelter and warmth.
We ask you to come spend the night with us in recognition of homelessness and help us raise funds for Family Promise. Every family, individual or organization will be provided a cardboard box to sleep in overnight and a spiritual reflection will be led by Father John during the evening of the sleep out. Also, participants will be provided hot beverages, a campfire and bagels & hot beverages for breakfast in the morning.
Each family and individual is asked to solicit donations from family, friends and organizations for each hour you sleep outside.
You will be given the sponsor sign-up form when you register for Box Village Come join us for this visible, faith and community building event on the St. James the Apostle grounds.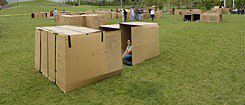 WHAT IS FAMILY PROMISE? Their mission is to help homeless and low-income families achieve sustainable independence. Family Promise recognizes that poverty is a multifaceted problem that requires a multifaceted response. They respond by integrating educational outreach, smart programming, effective policies, and the hands-on work of thousands of volunteers. They provide food, shelter, and support services for homeless families. They provide advice and advocacy for at-risk families to prevent their becoming homeless. And Family Promise educates people about poverty and the means to combat it. Family Promise's Vision: a nation in which every family has a home, a livelihood, and the chance to build a better future together.