A Message from Fr. David March 6, 2022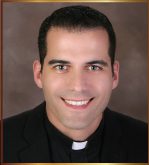 NEWS & UPDATES
Lent invites us once more to special observances of prayer, fasting, and generous giving.
As we continue to lift up our brothers and sisters in the Ukraine, I invite you to reflect on Pope Francis' words from his General Audience, February 23, 2022:
"Jesus taught us that the diabolical senselessness of violence is answered with God's weapons, with prayer and fasting. […] I encourage believers in a special way to dedicate themselves intensely to prayer and fasting […]. May the Queen of Peace preserve the world from the madness of war." – Pope Francis, General Audience, February 23, 2022
HALLOW APP FOR MOBILE DEVICES
I am super excited to share with you a gift from St. James parish that will hopefully be useful in your prayer lives and those of your families this Lenten season. Hallow is a Catholic prayer and meditation app that helps people from all faiths deepen their relationship with God through 3,000+ audio-guided prayer sessions. Hallow is designed so that no matter where you are on your faith or spiritual journey, you will find something to help you connect with God. This Lent, we have partnered with the Hallow team to provide Hallow Plus access to all parishioners for FREE through Easter. We hope you'll use Hallow this Lent to help you get to know God through the last words of Jesus. See below for more information on how to sign up for free.
REFLECTION ON THE READINGS
Lent is a very special time – a time of preparation for Easter. The power of Lent forces us to confront two important truths, truths we are very good at avoiding and ignoring.
First, it reminds us that, like Jesus, who died on Good Friday, we too are destined to die. Second, it reminds us that if we want to rise to new life after death, as Jesus did, WE MUST REPENT. That is, we must turn from our sins and follow in Jesus' footsteps.
Friends, I pray that as you begin this Lenten journey, you may at least carry with you this important question:
What is one way that you might follow more closely in Jesus' footsteps during the season of Lent?
Quote of the Week
Everybody thinks of changing humanity; nobody thinks of changing themselves.