A Message from Fr. David – January 23, 2022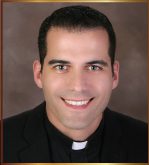 NEWS AND UPDATES
Archdiocesan Annual Appeal 2022
This weekend, Cardinal Tobin invites all Catholics in Bergen, Union, Hudson, and Essex counties to make their yearly commitment to the Annual Appeal.
I want to thank everyone who has given generously to the Appeal in the past. Your gifts continue to support our vital programs and ministries. I hope that you will join me in supporting this crucial program of the Archdiocese of Newark!
REFLECTION ON THE READINGS
What's in your wallet?
In one of the many versions of the Capital One "what's in your wallet?" commercials, a man asks a woman to promise that she'll wait for him as he takes care of business with his credit card. She promises, and the next scene shows the man returning, exclaiming off-camera, "You waited!" The woman viewed from the back, still wearing the same dress, turns and with a wizened, extremely aged face asks the viewers, "What's in your wallet?
How many of us have felt the same interminable wait for a simple prayer to be answered much less the promises of salvation to be fulfilled? Surely the people of Nazareth, upon hearing Jesus' announcement in the temple that He was the fulfillment of Isaiah's prophecies of the coming of a Messiah, must have thought: Sorry, Bud, it's too little, too late. But what they—and most of us—fail to realize is that we will never have to wait again. Salvation doesn't work like a revolving credit card where the balance between debt and credit constantly fluctuates. With the coming of Jesus, we have a continuous supply of blessings just sitting in our back pockets. We are never without spiritual capital or access to grace. What's in our wallets? An everlasting abundance of love. Go ahead, feel free to activate it.
Quote of the Week
Know that joy is rarer, more difficult, and more beautiful than sadness. Once you make this all-important discovery, you must embrace joy as a moral obligation.